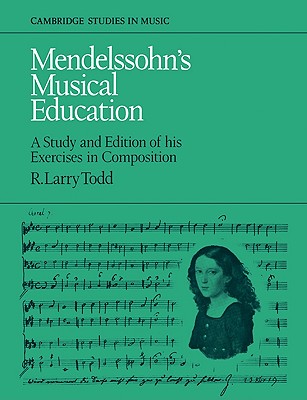 Mendelssohn's Musical Education (Paperback)
A Study and Edition of His Exercises in Composition (Cambridge Studies in Music)
Cambridge University Press, 9780521106337, 276pp.
Publication Date: November 30, 2008
* Individual store prices may vary.
Description
This book is a study and critical edition of Mendelssohn's composition exercise book from his early period of study with Carl Friedrich Zelter (1819-1821). The workbook illustrates in considerable detail the young musician's struggle to master the rules of part writing and principles of counterpoint. Much of Zelter's systematic teaching method is grounded in the eighteenth-century theoretical tradition of Berlin; not surprisingly, the exercises bear the stamp of the music of J. S. Bach, which heavily influenced such Berlin musicians as C. P. E. Bach, C. F. C. Fasch, Marpurg, Kirnberger, Zelter and Mendelssohn. There is little doubt that the historicist attitude of the mature Mendelssohn - as seen in his efforts to revive the works of Bach and Handel and in his propensity toward strict contrapuntal techniques in his own music - was conditioned by these studies with Zelter. The publication of the workbook sheds new light on the early development of one ofthe most important nineteenth-century composers who, though affected by the new wave of romanticism that swept over Europe, never lost his respect for the past. No less important, the manuscript includes several previously unpublished pieces which rank among Mendelssohn's earliest compositions.