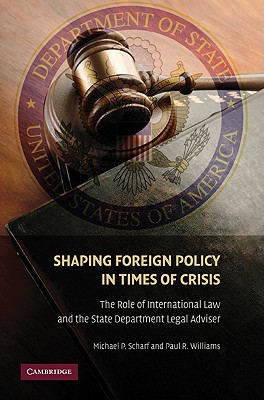 Shaping Foreign Policy in Times of Crisis (Paperback)
Cambridge University Press, 9780521167703, 305pp.
Publication Date: January 1, 2010
Other Editions of This Title:
Hardcover (2/1/2010)
* Individual store prices may vary.
Description
Shaping Foreign Policy in Times of Crisis grew out of a series of meetings that the authors convened with all ten of the living former U.S. State Department legal advisers (from the Carter administration to that of George W. Bush). Based on their insider accounts of the role that international law actually played during the major crises on their watch, the book explores whether international law is real law or just a form of politics that policymakers are free to ignore whenever they perceive it to be in their interest to do so. Written in a style that will appeal to the casual reader and serious scholar alike, the book includes a foreword by the Obama administration's State Department legal adviser, Harold Koh; background on the theoretical underpinnings of the compliance debate; an in-depth case study of the treatment of detainees in the war on terror; and a comprehensive glossary of the terms, names, places, and events that are discussed in the book. Click here to watch a video of the authors talking about their book on C-SPAN Book TV on Saturday, February 6, 2010.