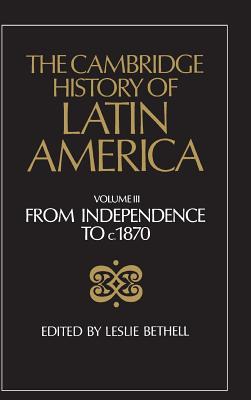 The Cambridge History of Latin America
Hardcover

* Individual store prices may vary.
Other Editions of This Title:
Paperback (6/5/2014)
Hardcover (9/29/2008)
Hardcover (1/27/1995)
Hardcover (10/25/1991)
Hardcover (10/27/1995)
Hardcover (6/30/1995)
Hardcover (1/27/1995)
Hardcover (1/1/1985)
Hardcover (7/25/1986)
Hardcover (6/27/1986)
Hardcover (6/29/1990)
Hardcover (1/25/1985)
Description
Volume III opens with five chapters which survey the revolutions and wars of independence in Spanish America and the relatively peaceful transition to independence in Brazil during the first quarter of the nineteenth century - after three centuries of Spanish and Portuguese rule. Part Two is devoted to the Caribbean and consists of chapters on Haiti, the former French colony and the first independent Latin American republic, Santo Domingo, the former Spanish colony, and on Cuba, which remained a Spanish colony, from the late eighteenth century to c. 1870. Parts Three and Four, the central core of this volume, examine the economic, social and political history of Latin America during the first half-century after independence. There are two general chapters on post independence Spanish America, followed by chapters on Mexico, Central America, Venezuela, Colombia and Ecuador, Peru and Bolivia, Chile and the River Plate republics, and there are two chapters on the empire of Brazil.
Cambridge University Press, 9780521232241, 960pp.
Publication Date: August 1, 1985