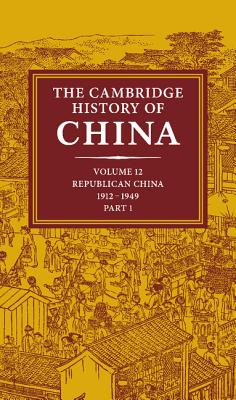 The Cambridge History of China
Volume 12, Republican China, 1912 1949, Part 1
Hardcover

* Individual store prices may vary.
Other Editions of This Title:
Hardcover (10/30/1980)
Hardcover (7/24/1986)
Description
This is the first of two volumes of this authoritative Cambridge history which review the Republican period, between the demise of imperial China and the establishment of the People's Republic. These years from 1912 to 1949 were marked by civil war, revolution and invasion; but also by change and growth in the economic, social, intellectual and cultural spheres. The chapters examine economic trends in the period and the rise of the new middle class. Intellectual trends are surveyed to show the changes in traditional Chinese values and the foreign influences which played a major role in Republican China. Although it is written by specialists, the goals and approach of this Cambridge history are to explain and discuss republican China for an audience which will include scholars, students and general readers who do not have special knowledge of Chinese history. It will be useful both as narrative history and as a reference source on the history and politics of China.
Cambridge University Press, 9780521235419, 1022pp.
Publication Date: October 20, 1983