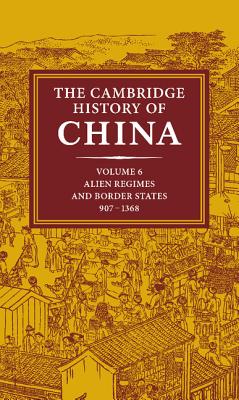 The Cambridge History of China
Volume 6, Alien Regimes and Border States, 907-1368
Hardcover

* Individual store prices may vary.
Description
This volume deals with four non-Chinese regimes: the Khitan dynasty of Liao; the Tangut state of Hsi Hsia; the Jurchen empire of Chin; and the Mongolian Yuan dynasty that eventually engulfed the whole of China. It investigates the historical background from which these regimes emerged and shows how each in its own way set up viable institutions for the control of a multi-racial, multi-lingual, and multi-cultural population. It discusses these problems not just as a long negative episode in China's history, but shows the ingenuity and adaptability of these states, and their success in achieving political and social stability. The volume presents the fullest chronological account of the period, in which political, institutional, social, and economic changes are integrated as far as possible, and sees the period against a broad background of international relations in Northern and Central Asia.
Cambridge University Press, 9780521243315, 896pp.
Publication Date: January 26, 1995