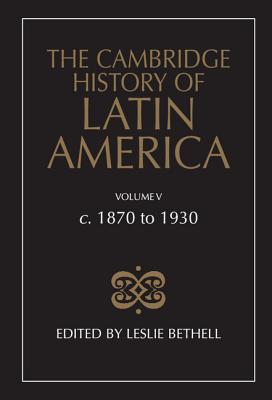 The Cambridge History of Latin America Vol 5 (Hardcover)
c.1870 to 1930
Cambridge University Press, 9780521245173, 970pp.
Publication Date: May 29, 1986
Other Editions of This Title:
Paperback (5/6/2014)
Hardcover (11/20/2008)
Hardcover (9/3/1995)
Hardcover (1/30/1992)
Hardcover (7/3/1996)
Hardcover (10/19/1995)
Hardcover (9/3/1995)
Hardcover (8/1/1985)
Hardcover (1/1/1985)
Hardcover (5/29/1986)
Hardcover (10/25/1990)
Hardcover (6/12/1984)
* Individual store prices may vary.
Description
The Cambridge History of Latin America is the first authoritative large-scale history of the whole of Latin America - Mexico and Central America, the Spanish-speaking Caribbean (and Haiti), Spanish South America and Brazil - from the first contacts between the native peoples of the Americas and Europeans in the late fifteenth and early sixteenth centuries to the present day. A major work of collaborative international scholarship, The Cambridge History of Latin America has been planned, co-ordinated and edited by a single editor, Dr Leslie Bethell, Reader in Hispanic American and Brazilian History at University College London. It will be published in eight volumes. Each volume or set of volumes examines a period in the economic, social, political, intellectual and cultural history of Latin America.