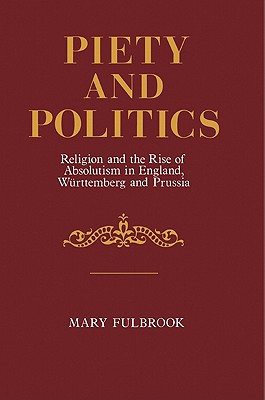 Piety and Politics
Religion and the Rise of Absolutism in England, Wurttemberg and Prussia (Cambridge Paperback Library)
Paperback

* Individual store prices may vary.
Description
In the context of continuing debates over Protestantism, capitalism and the absolutist state, this book presents a fresh historical and theoretical analysis of religion and politics in early modern Europe. The author undertakes a systematic comparative-historical analysis of the very different contributions made by the Puritan and Pietist movements to the success or failure of absolutist rule in England, W rttemberg and Prussia. While Puritans and Pietists shared similar religious ideas, aspirations and ethos, they developed quite different political attitudes and alliances in each case. English Puritans made a crucial contribution to the overthrow of attempted absolutism, as the English Revolution helped ensure the further development of parliamentary rule. Pietists in W rttemberg shared the anti-absolutist attitudes of the English Puritans, yet tended to remain politically passive in the constitutional struggles against absolutism. And in complete contrast, Pietists in Prussia made a vital positive contribution to the successful establishment of the militaristic, bureaucratic Prussian absolutist state.
Cambridge University Press, 9780521276337, 224pp.
Publication Date: November 17, 1983