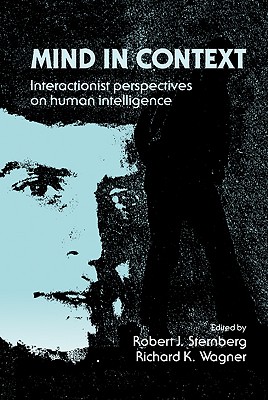 Mind in Context
Interactionist Perspectives on Human Intelligence
Hardcover

* Individual store prices may vary.
Other Editions of This Title:
Paperback (1/28/1994)
Description
The essays in Mind in Context serve as a bridge between the work of radical constructivists, who propose that all cognition depends on interaction with the outside world, and traditional cognitive scientists, who feel that all cognition resides in the mind. Here, concepts of distributed cognition and situated learning are translated into constructs and methodologies that are accessible to a broad range of psychology researchers and students. The volume is divided into three main parts, containing chapters by leaders in the fields of education, the study of intelligence, and psychometrics. Part I, dealing with performances in academic and test-like tasks, includes essays on novelty and intelligence, and the effects of context on cognition. Part II addresses everyday tasks, with essays on cognitive tests in job selection; and leader intelligence, interpersonal stress, and task performance. In Part III the essays move toward constructing an integrative framework for understanding the volume as a whole. This volume is essential reading for cognitive psychologists, social psychologists, educational psychologists as well as scholars interested in situated learning.
Cambridge University Press, 9780521411141, 260pp.
Publication Date: February 25, 1994