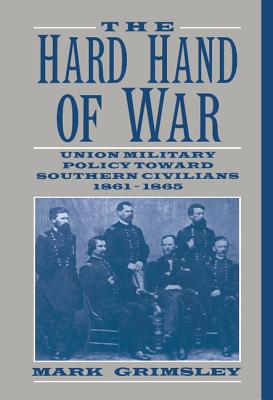 The Hard Hand of War (Hardcover)
Union Military Policy Toward Southern Civilians, 1861 1865
Cambridge University Press, 9780521462570, 258pp.
Publication Date: February 29, 1996
Other Editions of This Title:
Paperback (5/15/1997)
* Individual store prices may vary.
Description
The Hard Hand of War explores the Union army's policy of destructive attacks upon Southern property and civilian morale--how it evolved, what it was like in practice. From an initial policy of deliberate restraint, extending even to the active protection of Southerners' property and constitutional rights, Union armies gradually adopted measures that were expressly intended to demoralize Southern civilians and to ruin the Confederate economy. Yet the ultimate "hard war" policy was far from the indiscriminate fury of legend. Union policy makers promoted a program of directed severity, and Professor Grimsley demonstrates how and why it worked. This volume fits into an emerging interpretation of the Civil War that questions its status as a "total war" and instead emphasizes the survival of political logic and control even in the midst of a sweeping struggle for the nation's future: the primary goal of the Federal government remained the restoration of the Union, not the devastation of the South. Intertwined with a political logic, and sometimes indistinguishable from it, was also a deep sense of moral justice--a belief that, whatever the claims of military necessity, the innocent deserved some pity, and that even the guilty should suffer in rough proportion to the extent of their sins. Through comparisons with earlier European wars and through the testimony of Union soldiers and Southern civilians alike, Grimsley shows that Union soldiers exercised restraint even as they made war against the Confederate civilian population.