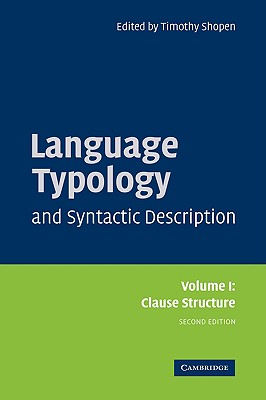 Language Typology and Syntactic Description (Hardcover)
Volume 1, Clause Structure
Cambridge University Press, 9780521581561, 500pp.
Publication Date: October 1, 2008
Other Editions of This Title:
Paperback (11/1/2007)
Paperback (11/1/2007)
Paperback (12/13/2011)
Hardcover (10/1/2008)
Hardcover (10/1/2008)
* Individual store prices may vary.
Description
This unique three-volume survey brings together a team of leading scholars to explore the syntactic and morphological structures of the world's languages. Clear and broad-ranging, it covers topics such as parts-of-speech, passives, complementation, relative clauses, adverbial clauses, inflectional morphology, tense, aspect, mood, and deixis. The contributors look at the major ways that these notions are realized, and provide informative sketches of them at work in a range of languages. Volume 1 covers the parts-of-speech systems, word order, noun phrases, clause types, speech act distinctions, passives, and information packaging in the clause.