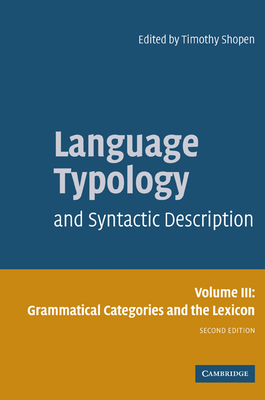 Language Typology and Syntactic Description (Paperback)
Volume 3, Grammatical Categories and the Lexicon (Language Typology & Syntactic Description #3)
Cambridge University Press, 9780521588553, 426pp.
Publication Date: November 1, 2007
* Individual store prices may vary.
Description
This three-volume survey brings together a team of leading scholars to explore the syntactic and morphological structures of the world's languages. Clearly organized and broad-ranging, it covers topics such as parts-of-speech, passives, complementation, relative clauses, adverbial clauses, inflectional morphology, tense, aspect, mood, and diexis. The contributors look at the major ways that these notions are realized, and provide informative sketches of them at work in a range of languages. Each volume is accessibly written and clearly explains each concept introduced. Although the volumes can be read independently, together they provide an indispensable reference work for all linguists and fieldworkers interested in cross-linguistic generalizations. Most of the chapters in the second edition are substantially revised - some on topics not covered by the first edition. Volume III covers typological distinctions in word formation, lexical typologies, inflectional morphology, gender and noun classes, aspect, tense, mood, and lexical nominalization.