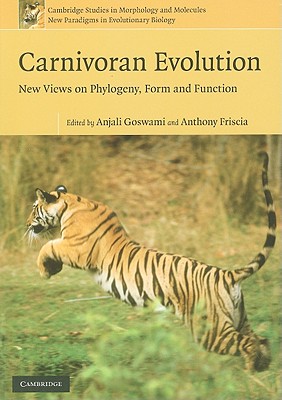 Carnivoran Evolution
New Views on Phylogeny, Form, and Function (Cambridge Studies in Morphology and Molecules: New Paradigms #1)
Paperback

* Individual store prices may vary.
Other Editions of This Title:
Hardcover (7/31/2010)
Description
Members of the mammalian clade Carnivora have invaded nearly every continent and ocean, evolving into bamboo-eating pandas, clam-eating walruses and of course, flesh-eating sabre-toothed cats. With this ecological, morphological and taxonomic diversity and a fossil record spanning over sixty million years, Carnivora has proven to be a model clade for addressing questions of broad evolutionary significance. This volume brings together top international scientists with contributions that focus on current advances in our understanding of carnivoran relationships, ecomorphology and macroevolutionary patterns. Topics range from the palaeoecology of the earliest fossil carnivorans to the influences of competition and constraint on diversity and biogeographic distributions. Several studies address ecomorphological convergences among carnivorans and other mammals with morphometric and Finite Element analyses, while others consider how new molecular and palaeontological data have changed our understanding of carnivoran phylogeny. Combined, these studies also illustrate the diverse suite of approaches and questions in evolutionary biology and palaeontology.
Cambridge University Press, 9780521735865, 492pp.
Publication Date: September 1, 2010