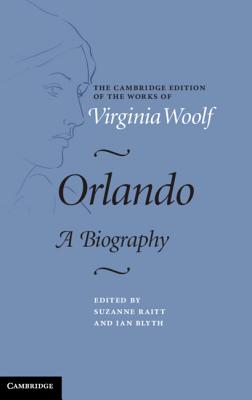 Orlando (Cambridge Edition of the Works of Virginia Woolf) (Hardcover)
Cambridge University Press, 9780521878968, 674pp.
Publication Date: June 7, 2018
Other Editions of This Title:
Paperback (1/3/2020)
Paperback (1/6/2020)
Paperback (1/29/2020)
Paperback (12/17/2019)
Paperback (2/18/2011)
Paperback (2/3/2020)
Paperback (2/9/2020)
Paperback (7/26/2018)
Hardcover (10/8/2010)
Paperback (1/29/2020)
Hardcover (1/6/2020)
Paperback (10/24/1973)
Paperback (12/20/2019)
Paperback (7/3/2006)
Hardcover (7/26/2018)
Paperback (2/6/2013)
Paperback (7/1/2008)
Paperback, Spanish (8/25/2015)
* Individual store prices may vary.
Description
Orlando, a novel loosely based on the life of Vita Sackville-West, Virginia Woolf's lover and friend, is one of Woolf's most playful and tantalizing works. This edition provides readers with a fully collated and annotated text. A substantial introduction charts the birth of the novel in the romance between Woolf and Sackville-West, and the role it played in the evolution and eventual fading of that romance. Extensive explanatory notes reveal the extent to which the novel is embedded in Woolf's knowledge of Sackville-West, her family history and her writings. Thorough annotation of every literary and historical allusion in the text establishes its significance as a parodic literary and social history of England, as well as a spoof of one of Woolf's favorite forms, the biography. It also includes all variants from the extant proofs, as well as editions of the novel produced during Woolf's lifetime.
About the Author
Virginia Woolf (1882-1941) is one of the foremost innovative writers of the 20th century, and is most famous for her novels "Mrs. Dalloway" and "To the Lighthouse." She met Vita Sackville-West in 1922, for whom the brilliant fantasy of "Orlando "was written. Tilda Swinton is an Academy Award-winning actress who played the title role in Sally Potter's 1992 feature film "Orlando." Her many other films include "The Chronicles of Narnia: The Lion, the Witch and the Wardrobe"; "The Deep End"; "I Am Love"; and "Michael Clayton."