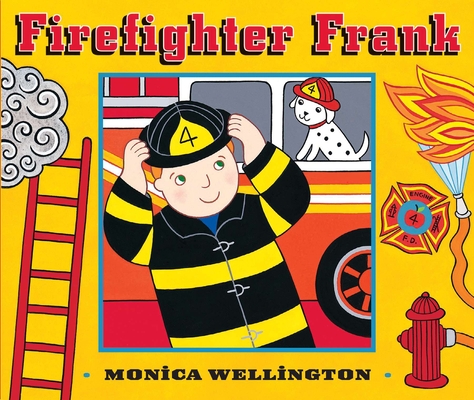 Firefighter Frank Board Book Edition (Board book)
Dutton Books for Young Readers, 9780525423737, 26pp.
Publication Date: March 17, 2011
* Individual store prices may vary.
Description
Bright pictures of a firefighter and his big red truck make this board book perfect for the very youngest. In twelve eye-catching spreads, Frank shows scenes from his day, from cleaning the truck to putting out a fire. With lots to look at, this book is sure to be a favorite of every truck-loving tot.
About the Author
Monica Wellington was born in London and lived in Europe until she moved tothe United States at age seven. As a child she always loved to draw andpaint, but it wasn't until she went to college that she realized she wantedto be an artist for her profession. She went to the University of Michigan'sSchool of Art to earn her BFA and studied pottery, painting and printmaking.After art school, while traveling and living in a number of differentcountries, she had various art related jobs, which were all good backgroundand preparation for doing children's books.She has both written and illustrated the majority of her books. She says,"I usually start a book visually, with an idea of what I want to paintpictures about. The pictures may come first before the words for me. Boththe pictures and words go through many revisions, and I am often stillworking on the final words after I finish the pictures."She says that doing children?s books is great. "I get to have a job where Ispend my days doing totally what I love to do. And it is very gratifyingthat my work goes out into the world and is shared with other people. Ifeel incrediably lucky for all this!"Since 1994 she has taught illustration at the School of Visual Arts. Shelives in New York City with her daughter Lydia.