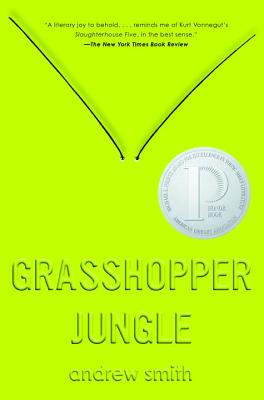 Grasshopper Jungle
Hardcover

* Individual store prices may vary.
Description
A 2015 Michael L. Printz Honor Book
Winner of the 2014 Boston Globe-Horn Book Award for Fiction
Grasshopper Jungle is a rollicking tale that is simultaneously creepy and hilarious. It's propulsive plot would be delightful enough on its own, but Smith's ability to blend teenage drama into a bug invasion is a literary joy to behold Smith may have intended this novel for young adults, but his technique reminds me of Kurt Vonnegut's in Slaughterhouse Five, in the best sense. "New York Times Book Review"
In the small town of Ealing, Iowa, Austin and his best friend, Robby, have accidentally unleashed an unstoppable army. An army of horny, hungry, six-foot-tall praying mantises that only want to do two things.
This is the truth. This is history.
It's the end of the world. And nobody knows anything about it.
You know what I mean.
Funny, intense, complex, and brave, "Grasshopper Jungle" brilliantly weaves together everything from testicle-dissolving genetically modified corn to the struggles of recession-era, small-town America in this groundbreaking coming-of-age stunner from the author of "The Alex Crow"and "Winger."

Praise For Grasshopper Jungle…
"Original, weird, sexy, thought-provoking and guaranteed to stir controversy. One hell of a book." – Michael Grant, New York Times bestselling author of the Gone series

"Andrew Smith is the bravest storyteller I know. Grasshopper Jungle is the most intelligent and gripping book I've read in over a decade. I didn't move for two days until I had it finished. Trust me. Pick it up right now. It's a masterpiece." – A. S. King, Printz Honor-winning author of Ask the Passengers and Please Ignore Vera Dietz

"Grasshopper Jungle is about the end of the world. And everything in between." – Alex London, author of Proxy
 
"In Grasshopper Jungle, it's as if Andrew Smith is somehow possessed by the ghost of Kurt Vonnegut. This book is nothing short of a brilliant, hilarious thrill-ride that is instantly infectious. But, the most beautiful thing about Grasshopper Jungle has nothing to do with the absurd or out-of-this-world. It is the deft hand by which Smith explores teenage love and sexuality that is truly breathtaking. In writing a history of the end of the world, Smith may have just made history himself." – John Corey Whaley, Printz Award-winning author of Where Things Come Back

"A meanderingly funny, weirdly compelling and thoroughly brilliant chronicle of 'the end of the world, and shit like that'...a mighty good book." – Kirkus, starred review**
 
"Filled with gonzo black humor, Smith's outrageous tale makes serious points about scientific research done in the name of patriotism and profit, the intersections between the personal and the global, the weight of history on the present, and the often out-of-control sexuality of 16-year-old boys." – PW, starred review**
 
"Original, honest, and extraordinary… pushes the boundaries of young adult literature." – School Library Journal, starred review**

"I found myself saying over and over again, 'Where in the heck is he going with this?' all the while turning the pages as fast as I could. Mostly I kept thinking, This was a brave book to write." –Terry Brooks, author of the Shannara series

"Grasshopper Jungle plays like a classic rock album, a killing machine of a book built for the masses that also dives effortlessly into more challenging, deeper regions of emotion. Above all else, when it's done you want to play it all over again. It's sexy, gory, hilarious, and refreshingly amoral. I wish I'd had this book when I was fifteen." –Jake Shears, Scissor Sisters
 
Dutton Books, 9780525426035, 388pp.
Publication Date: February 11, 2014
About the Author
Andrew Smith is the award-winning author of several young adult novels, including the critically acclaimed "Winger" and "The Marbury Lens." He is a native-born Californian who spent most of his formative years traveling the world. His university studies focused on Political Science, Journalism, and Literature. He has published numerous short stories and articles. "Grasshopper Jungle" is his seventh novel. He lives in Southern California. You can learn more at authorandrewsmith.com and follow him on Twitter: @marburyjack.
or
Not Currently Available for Direct Purchase