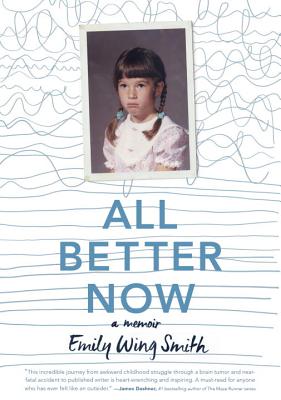 All Better Now (Hardcover)
Dutton Books for Young Readers, 9780525426240, 304pp.
Publication Date: March 8, 2016
* Individual store prices may vary.
Description
An honest and captivating memoir of the author's childhood struggles as a result of a brain tumor, only discovered following a near-fatal car accident.
 
All her life, Emily has felt different from other kids. Between therapist visits, sudden uncontrollable bursts of anger, and unexplained episodes of dizziness and loss of coordination, things have always felt not right. For years, her only escape was through the stories she'd craft about herself and the world around her. But it isn't until a near-fatal accident when she's twelve years old that Emily and her family discover the truth: a grapefruit sized benign brain tumor at the base of her skull.
               
In turns candid, angry, and beautiful, Emily Wing Smith's riveting memoir chronicles her struggles with both mental and physical disabilities during her childhood, the devastating accident that may have saved her life, and the means by which she coped with it all: writing.

"This incredible journey from an awkward childhood struggle through a brain tumor and near-fatal accident to published writer is heart-wrenching and inspiring. A must-read, especially for anyone who has ever felt like an outsider."—James Dashner, #1 bestselling author of the The Maze Runner series

"An extraordinary memoir about her life on the outside and how she found her way in." —Booklist

"Smith unapologetically and honestly delivers all the messy details of her hard-won life and, without striving for sympathy, draws readers firmly to her side to applaud her developing successes." —Publishers Weekly



About the Author
Emily Wing Smith received her masters degree in writing for children and young adults from Vermont College and is the author of Back When You Were Easier to Love and The Way He Lived. She lives with her husband in Salt Lake City, where she writes, bakes chocolate chip cookies, and occasionally substitutes at her old high school (which hasn't gotten any less odd).
Praise For All Better Now…
"This incredible journey from an awkward childhood struggle through a brain tumor and near-fatal accident to published writer is heart-wrenching and inspiring. A must-read, especially for anyone who has ever felt like an outsider." —James Dashner, #1 bestselling author of the The Maze Runner series

"Smith unapologetically and honestly delivers all the messy details of her hard-won life and, without striving for sympathy, draws readers firmly to her side to applaud her developing successes." —Publishers Weekly

"An extraordinary memoir about her life on the outside and how she found her way in." —Booklist



"I read this memoir in one sitting, unable to leave Emily's story of hard things and of hope behind until I knew what happened. All Better New is beautifully written and honestly told. I loved it." —Ally Condie, international bestselling author of the Matched series and Summerlost
 
"This book is not just a memoir of incredible tragedy overcome. It is a beautiful, funny, brilliantly written story that will keep you reading. Read it not just because it is real and amazing, but for the truth it will reveal about your own heart." —Francisco X. Stork, author of Marcelo in the Real World
 
"Emily Wing Smith is one of my favorite writers. I am thrilled that she wrote this memoir. So many readers will relate to her feelings of isolation and just plain weirdness. I know I did. But I also came away changed, with more understanding and empathy than before. I ripped through this book, breathless for each new scene." —Shannon Hale, award-winning, bestselling author of Austenland and Dangerous
 
"Emily Wing Smith delivers a raw account of a painful and singular childhood that touches on questions we all ask of ourselves. I was moved to tears by her bravery and utterly authentic voice." —Matthew J. Kirby, Edgar Award–winning author of Icefall
 
"A searing, beautiful, heartbreakingly honest memoir about beating . . . the odds, staying true to oneself, and finding a way through this complicated life. You'll laugh, you'll cry, and you'll want to be best friends with the delightful author, Emily Wing Smith." —Kristin Harmel, internationally bestselling author of The Sweetness of Forgetting
 
"An honest, bittersweet, and beautiful memoir, Emily Wing Smith doesn't pull any punches or ask for pity, she just tells it like it is." —Jessica Day George, bestselling author of Silver in the Blood
 
"Triumphant and heartbreaking, poignant and powerful, Emily Wing Smith's memoir is overwhelming in its humor and its truth." —Carrie Jones, bestselling author of Need
 
"Breathtaking and beautiful, heartbreaking and full of quirky charm, Emily's memoir sticks to your heart like peanut butter. If you can remember imaginary friends, or secret heartaches or just the feeling of being different, you will lose yourself in this book! I did not want to put it down."—Brodi Ashton, author of the Everneath trilogy
 
"How to best describe this quirky memoir about a challenging childhood?  It's fierce. And funny at times, too. But ultimately it's forgiving and so very generous-hearted. There are not enough words to say how much I love this wholly original book." —A. E Cannon, author of Charlotte's Rose
 
"A warm, humorous coming-of-age memoir. It reminds us that childhood is more than a time of innocence; it's also a time of debilitating anxiety that adults don't understand. Emily Wing Smith's writing sings with original metaphors and quirky insights." —Louise Plummer, author of The Unlikely Romance of Kate Bjorkman
 
"Emily Wing Smith's brain may be imperfect, but her heart is pure gold. In vulnerable, pared-down prose and a heaping of heart, All Better Now chronicles her miraculous and unforgettable story." —Wendy Toliver, author of Lifted
 
"Poignant and incredibly honest, All Better Now is beautifully written. It is a memoir of self-discovery, growth, friendship, and ultimately grace." —Anne Bowen, author of I Loved You Before You Were Born
or
Not Currently Available for Direct Purchase