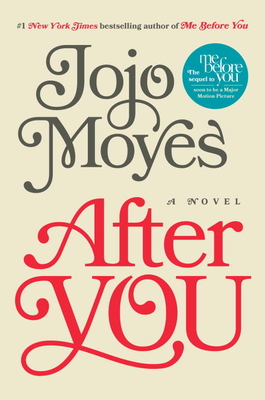 After You (Hardcover)
A Novel (Me Before You Trilogy #2)
Pamela Dorman Books, 9780525426592, 368pp.
Publication Date: September 29, 2015
Other Editions of This Title:
CD-Audio (9/29/2015)
Paperback, Large Print (9/6/2016)
Mass Market Paperbound (12/6/2016)
Prebound (7/19/2016)
* Individual store prices may vary.
Description
From the New York Times bestselling author of The Giver of Stars, discover the love story that captured over 20 million hearts in Me Before You, After You, and Still Me.

"You're going to feel uncomfortable in your new world for a bit. But I hope you feel a bit exhilarated too. Live boldly. Push yourself. Don't settle. Just live well. Just live. Love, Will."
 
How do you move on after losing the person you loved? How do you build a life worth living?
 
Louisa Clark is no longer just an ordinary girl living an ordinary life. After the transformative six months spent with Will Traynor, she is struggling without him. When an extraordinary accident forces Lou to return home to her family, she can't help but feel she's right back where she started.
 
Her body heals, but Lou herself knows that she needs to be kick-started back to life. Which is how she ends up in a church basement with the members of the Moving On support group, who share insights, laughter, frustrations, and terrible cookies. They will also lead her to the strong, capable Sam Fielding—the paramedic, whose business is life and death, and the one man who might be able to understand her. Then a figure from Will's past appears and hijacks all her plans, propelling her into a very different future. . . .
 
For Lou Clark, life after Will Traynor means learning to fall in love again, with all the risks that brings. But here Jojo Moyes gives us two families, as real as our own, whose joys and sorrows will touch you deeply, and where both changes and surprises await.
About the Author
Jojo Moyes is the #1 New York Times bestselling author of Still Me, After You, Me Before You, The Horse Dancer, Paris for One and Other Stories, One Plus One, The Girl You Left Behind, The Last Letter from Your Lover, Silver Bay, and The Ship of Brides. She lives with her husband and three children in Essex, England.d.
Praise For After You: A Novel (Me Before You Trilogy #2)…
Praise for AFTER YOU:

"Jojo Moyes has a hit with AFTER YOU."—USA Today

"The genius of Moyes…[is that she] peers deftly into class issues, social mores and complicated relationships that raise as many questions as they answer. And yet, there is always resolution. It's not always easy, it's not always perfect, it's sometimes messy and not completely satisfying. But sometimes it is."—Bobbi Dumas, NPR

"Think Elizabeth Bennet after Darcy's eventual death; Alice after Gertrude; Wilbur after Charlotte. The 'aftermath' is a subject most writers understandably avoid, but Moyes has tackled it and given readers an affecting, even entertaining female adventure tale about a broken heroine who ultimately rouses herself and falls in love again, this time with the possibilities in her own future."–Maureen Corrigan, NPR 

"Charming." —People Magazine

"Like its predecessor [Me Before You], After You is a comic and breezy novel that also tackles bigger, more difficult subjects, in this case grief and moving on… We all lose what we love at some point, but in her poignant, funny way, Moyes reminds us that even if it's not always happy, there is an ever after." –Miami Herald

Praise for ME BEFORE YOU:

"A hilarious, heartbreaking, riveting novel . . . I will stake my reputation on this book."—Anne Lamott, People

"When I finished this novel, I didn't want to review it: I wanted to reread it. . . . an affair to remember."—New York Times Book Review

"An unlikely love story . . . To be devoured like candy, between tears."—O, The Oprah Magazine

"Funny and moving but never predictable."—USA Today (4 stars)

"Masterful . . . a heartbreaker in the best sense . . . Me Before You is achingly hard to read at moments, and yet such a joy."—New York Daily News

"Funny, surprising and heartbreaking, populated with characters who are affecting and amusing . . . This is a thought-provoking, thoroughly entertaining novel that captures the complexity of love."—People Magazine

Praise for STILL ME:

"Still Me offers a warm conclusion to the Me Before You trilogy. . . resulting in the best entry in the trilogy yet. . . Moyes has crafted a clear-eyed tale of self-discovery and the sacrifice required to live a life honestly in pursuit of the things you love. [It will] keep you sighing with delight to the very last page. A." —Entertainment Weekly (online)

"Louisa is the perfect mix of daffy and brilliant, a sartorial risk-taker with a knack for solving other people's problems.  It is utterly satisfying to watch her tackle her own. Readers of Sophie Kinsella and Graeme Simsion's The Rosie Project will want to start at the beginning. … Moyes fans will be clamoring for the return of Louisa Clark." —Booklist (starred review)

"Jojo's work never fails to bring a smile to my face with her honesty, humour and empathy about what it is to be human—[Still Me is] a must read!" —Emilia Clarke

"You sobbed through Me Before You. You sped through Me After You. And now, Lou is back in Still Me. . . don't miss this funny, romantic third installment." —HelloGiggles

"Moyes's easy way of making you instantly care for her characters (deeply) prevails." —goop


Praise for ONE PLUS ONE:

"Safety advisory: If you're planning to read Jojo Moyes's One Plus One on your summer vacation, slather on plenty of SPF 50. Once you start the book, you probably won't look up again until you're the last one left on the beach…[a] wonderful new novel."
—The Washington Post

"Jojo Moyes' new novel One Plus One adds up to a delightful summer read, where the whole is greater than the sum of its charming parts…Moyes' observations on modern life are dryly hilarious…You don't need to be a math whiz to figure out this book is one worth adding to your summer reading list."
—USA Today (4 stars)

"Bridget Jones meets Little Miss Sunshine in this witty British romp from bestseller Moyes…Wryly romantic and surprisingly suspenseful."
—People

"Fans of the 2006 summer sleeper hit Little Miss Sunshine will find a lot to love in British author Jojo Moyes' latest, about a madcap road trip that's packed to the boot with familial drama, class clashes, and romance."
—Entertainment Weekly (A-)

"No need to worry where this road trip is headed. Just sit back, roll down your window and enjoy being a passenger."
—Cleveland Plain Dealer
What is Louisa's emotional state at the start of this book? What has transpired for her between Will's death and now?
Lou's gig at the Shamrock and Clover is a great source of humor in the book. What other function does this particular job play in the book and how does it serve the story?
Lou worries that after her accident everyone thinks she's suicidal. How would you describe her mental state and her role in the fall? Is she responsible, and why or why not?
Throughout the book Lou and her loved ones question her life decisions, and if she is in fact "living" at all after Will's death. What is holding her back and what ultimately allows her to make changes?
Lou finds herself attracted to Sam, but she isn't always straightforward with him about her feelings. What keeps her from being intimate with him?
How are the Traynors dealing with their complex grief in different ways?
How does the Moving On Circle help Lou? What insights does she take away from her experience?
In Chapter 19, the point of view changes to Lily's perspective. Why does the author make this shift and how does it serve the overall plot of the book?
A running theme in the novel is about personal freedom and how Lou, Treena, and their mother all feel trapped by their respective situations. How do they learn from one another? How might they each benefit from having more freedom?
What does Lou learn from her relationship with Sam and how might these lessons serve her in her new life?
Coverage from NPR