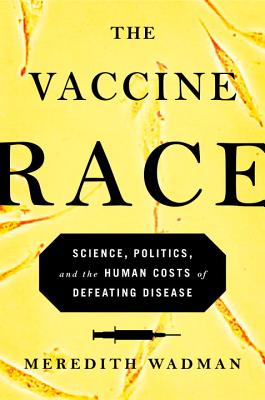 The Vaccine Race (Hardcover)
Science, Politics, and the Human Costs of Defeating Disease
Viking, 9780525427537, 448pp.
Publication Date: February 7, 2017
Other Editions of This Title:
Digital Audiobook (2/6/2017)
Paperback (9/4/2018)
* Individual store prices may vary.
Description
"Riveting . . . [The Vaccine Race] invites comparison with Rebecca Skloot's 2007 The Immortal Life of Henrietta Lacks."—Nature 

"This is a story about the war against disease—a war without end—and the development of enormously important vaccines, but in telling that story, in showing how science works, Meredith Wadman reveals much more. I loved this book."
—John M. Barry, New York Times bestselling author of The Great Influenza

The epic and controversial story of a major breakthrough in cell biology that led to the conquest of rubella and other devastating diseases.
 
Until the late 1960s, tens of thousands of American children suffered crippling birth defects if their mothers had been exposed to rubella, popularly known as German measles, while pregnant; there was no vaccine and little understanding of how the disease devastated fetuses. In June 1962, a young biologist in Philadelphia, using tissue extracted from an aborted fetus from Sweden, produced safe, clean cells that allowed the creation of vaccines against rubella and other common childhood diseases. Two years later, in the midst of a devastating German measles epidemic, his colleague developed the vaccine that would one day wipe out homegrown rubella. The rubella vaccine and others made with those fetal cells have protected more than 150 million people in the United States, the vast majority of them preschoolers. The new cells and the method of making them also led to vaccines that have protected billions of people around the world from polio, rabies, chicken pox, measles, hepatitis A, shingles and adenovirus.
 
Meredith Wadman's masterful account recovers not only the science of this urgent race, but also the political roadblocks that nearly stopped the scientists. She describes the terrible dilemmas of pregnant women exposed to German measles and recounts testing on infants, prisoners, orphans, and the intellectually disabled, which was common in the era. These events take place at the dawn of the battle over using human fetal tissue in research, during the arrival of big commerce in campus labs, and as huge changes take place in the laws and practices governing who "owns" research cells and the profits made from biological inventions. It is also the story of yet one more unrecognized woman whose cells have been used to save countless lives.
 
With another frightening virus imperiling pregnant women on the rise today, no medical story could have more human drama, impact, or urgency today than The Vaccine Race.
About the Author
Meredith Wadman has covered biomedical research politics from Washington for twenty years. She is a reporter at  Science and has written for Nature, Fortune, the New York Times, and the Wall Street Journal. A graduate of Stanford and Columbia, she began medical school at the University of British Columbia and completed her medical degree as a Rhodes scholar at the University of Oxford.
Praise For The Vaccine Race: Science, Politics, and the Human Costs of Defeating Disease…
Shortlisted for the Wellcome Book Prize

"Riveting . . . [The Vaccine Race] invites comparison with Rebecca Skloot's 2007 The Immortal Life of Henrietta Lacks."—Nature 

"Rich in scientific anecdotes, historical detail and quirky characters. . . She conveys the era's no-holds-barred approach to science, as well as the altruism of individual scientists and doctors at a time when no one had yet thought of patenting a gene or a living cell… her chapter on the stirrings of entrepreneurship among biologists and universities is an enlightening primer on the birth of the biotech industry." --Washington Post


"Meticulously researched and carefully crafted . . . The Vaccine Race, is an enlightening telling of the development of vaccines in the mid-20th century. . . . an intelligent and entertaining tome . . . [and] a comprehensive portrait of the many issues faced in the race to develop vaccines."
—Science
 
"A riveting tale of scientific infighting, clashing personalities, sketchy ethics, and the transformation of cell biology from a sleepy scientific backwater to a high-stakes arena where vast fortunes are made."
—The Wall Street Journal

"Meredith Wadman's fine, new book details the struggle to develop a rubella vaccine—a tale of revolutionary science on the one hand; gloves-off combat on the other. And it confronts a host of hot-button issues, all beautifully explained..reads like a good detective novel."  
 -David Oshinsky, FASEB Journal
 
"Wadman's research is extensive, and her book is packed with anecdotes and details of the science, the times, and the people."
—The Boston Globe
 
"The Vaccine Race is an important read—for scientists, politicians, physicians, parents and everyone interested in how the world of medical research works. . . . A very compelling read."
—The Huffington Post
 
"This is a story about the war against disease--a war without end--and the development of enormously important vaccines, but in telling that story, in showing how science works, Meredith Wadman reveals much more. Like all wars, that story includes heroism, risk-taking, persistence, and fighting against the odds, and, like all wars, that story also includes politics, obtuseness, bureaucracy, and fights over money. It's very well-written and does not oversimplify yet explains clearly even the purely scientific parts of the story. In short, I loved this book."
—John M. Barry, New York Times bestselling author of The Great Influenza
 
"Meredith Wadman rolls up her sleeves and takes an uncompromising look at the sometimes unethical, often crude, and always rough-and-tumble world of one of the greatest success stories in public health: vaccines. What she finds will no doubt surprise you."
—Paul A. Offit, MD, author of Pandora's Lab: Seven Stories of Science Gone Wrong and Autism's False Prophets
 
"A gripping story with strong resonance in the age of Zika and Ebola--and a powerful reminder of the ways in which researchers approached the ethics of medical testing only fifty years ago."
—Henry T. Greely, Director of Stanford's Center for Law and the Biosciences and author of The End of Sex
 
"The fascinating story of  the scientific battle over--among other important matters--whether human vaccines should be grown in human or animal cells. The hero of this story is Leonard Hayflick, who favored human cells. Fortunately for all of us, he won out."
—Stanley M. Gartler, Prof. Emeritus, Medical Genetics, University of Washington
 
"An exemplary piece of medical journalism."
—Publisher's Weekly (starred review)
 
"An important story well told, featuring the drama and characters needed to make this a candidate for film adaptation."
—Kirkus Reviews
 
"It is a story of human tragedy and greatness, of curiosity and ambition, of turf battles and ethical lapses, and of what we would call today 'fake news' and 'alternative facts' about the use of cells from an aborted fetus."
—Dallas Morning News
or
Not Currently Available for Direct Purchase