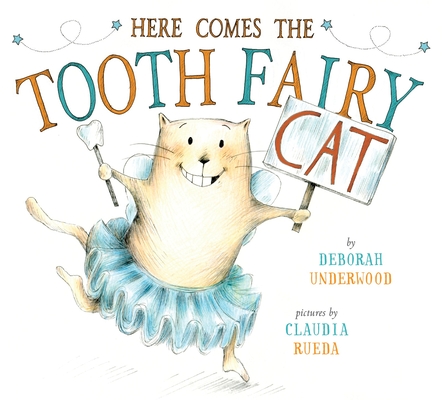 Here Comes the Tooth Fairy Cat (Hardcover)
Dial Books, 9780525427742, 96pp.
Publication Date: May 19, 2015
* Individual store prices may vary.
Description
The star of the New York Times bestselling Here Comes the Easter Cat is back with a loose tooth—and a little competition!

When Cat loses a tooth, the Tooth Fairy delivers a wholly unwanted sidekick: a mouse. Together, Cat and Mouse are tasked with running a few Tooth Fairy-related errands—a challenge, since Mouse is just as competitive and mischievous and hilariously self-involved as Cat. The stakes rise and so does the deadpan humor, culminating in a satisfying surprise that will leave readers eager for yet another delightfully devious Cat adventure.

An homage to classic comic strips from the author of The Quiet Book and The Loud Book, this New York Times bestselling series is perfect for fans of Pete the Cat, Bad Kitty, and Mo Willems's Elephant and Piggie series.

Read it when there's a wiggly tooth and year-round!

"Priceless." —SLJ
"Great . . . clever fun." —Kirkus 
"Craftier than ever . . . [A] welcome addition." —The Horn Book 
"A delight . . . a hoot in an aqua tutu and fairy wings" —BCCB
 
About the Author
Deborah Underwood is the author of numerous fiction books for children, including A Balloon for Isabel, Pirate Mom, Part-Time Princess, and the New York Times bestsellers The Quiet Book, The Loud Book, and, of course, Here Comes the Easter Cat. She has written more than 25 nonfiction books for kids, and her work has appeared in National Geographic Kids, Ladybug, Spider, and Highlights for Children. She lives in northern California with her cat, Bella.

Claudia Rueda is the author of several picture books including Is It Big or Is It Little, Huff and Puff and My Little Polar Bear, and the illustrator of Here Comes the Easter Cat. She is a full-time illustrator and lives in Colombia.
Praise For Here Comes the Tooth Fairy Cat…
"Priceless . . . Fans of Here Comes Santa Cat and Here Comes the Easter Cat and newcomers alike will ask for this book again and again." —School Library Journal 
 
"Underwood plays the two [characters] off each other to great effect . . . and Rueda's ink-and-colored-pencil illustrations heighten the humor with spot-on expressions and sight gags. Generous white space, expert timing, and minimalist illustrations focus attention on the plentiful, playful banter. Clever fun continues in this delightful series." —Kirkus Reviews

"Cat, who wanted to steal the Easter Bunny's spotlight and bypass the naughty list by impersonating Santa, is back and craftier than ever. . . . The lost-tooth canon, smaller than the Christmas canon and maybe even the Easter-bunny canon, has plenty of space for this welcome addition." —The Horn Book 

"Cat is a delight, thoroughly and appropriately childlike in action and emotion . . . and a hoot in an aqua tutu and fairy wings, as is the droopy-eared, potbellied Mouse in similar attire. Fans of the previous books will want to join Cat on this latest jaunt, [as will] those looking for a tooth fairy-themed title." —BCCB