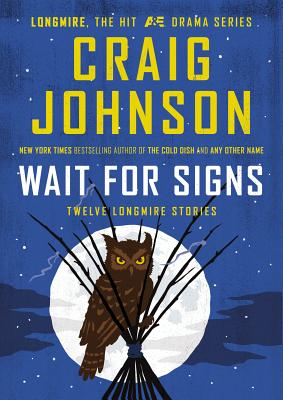 Wait for Signs
Twelve Longmire Stories (A Longmire Mystery)
Hardcover

* Individual store prices may vary.
Other Editions of This Title:
Digital Audiobook (10/20/2014)
Paperback (10/27/2015)
Description
Twelve Longmire short stories available for the first time in a single volume—featuring an introduction by Lou Diamond Phillips of the hit drama series Longmire, now on Netflix

Craig Johnson's new novel, The Western Star, will be available from Viking in Fall 2017.

Ten years ago, Craig Johnson wrote his first short story, the Hillerman Award–winning "Old Indian Trick." This was one of the earliest appearances of the sheriff who would go on to star in Johnson's bestselling, award-winning novels and the hit drama series Longmire. Each Christmas Eve thereafter, fans rejoiced when Johnson sent out a new short story featuring an episode in Walt's life that doesn't appear in the novels; over the years, many have asked why they can't buy the stories in book form.

Wait for Signs collects those beloved stories—and one entirely new story, "Petunia, Bandit Queen of the Bighorns"—for the very first time in a single volume, regular trade hardcover. With glimpses of Walt's past from the incident in "Ministerial Aide," when the sheriff is mistaken for a deity, to the hilarious "Messenger," where the majority of the action takes place in a Port-A-Potty, Wait for Signs is a necessary addition to any Longmire fan's shelf and a wonderful way to introduce new readers to the fictional world of Absaroka County, Wyoming.
Praise For Wait for Signs: Twelve Longmire Stories (A Longmire Mystery)…
"This story collection featuring the ironic Wyoming sheriff is a must....[Walt Longmire is] one of the most memorable characters is crime fiction today."—Publishers Weekly

"Heartwarming....Sample, savor, and save these [short stories] for special occasions."—Booklist

"For fans of Johnson's Absaroka County sheriff, all the familiar characters fill these stories—Walt, Vic, Henry, Cady, and of course the wild, open spaces of Wyoming's Bighorn Mountains."—Library Journal (starred)

 

Praise for Spirit of Steamboat:

"A nail-biter."—Publishers Weekly

"Johnson is a born storyteller, and he spins this old-fashioned adventure tale deftly….An extremely pleasant present for fans of this popular series."—Booklist

"A suspenseful adventure story….Series fans along with adventure and Western readers will raptly devour the details."—Library Journal
 
Praise for A Serpent's Tooth:
 
"Suspense propels the brisk plot, complemented by a sly sense of humor and a breathtaking look at Wyoming."—Publishers Weekly (Starred)

"Authentic....The story moves at a brisk pace, with room for some good-natured humor and plenty of gorgeous Wyoming scenery."—CNN.com

"A tense, action-filled story with Johnson's usual touches of humor and romance."—Kirkus

"Maybe [Johnson's] best one yet."—Charleston Gazette

"Johnson employs his trademark humor, many literary allusions, a cast readers can't help but love and Johnson's obvious love of the land he's writing about. Readers will experience the West in all its grandeur while Walt battles the evils trying to encroach upon his beloved county."—Shelf Awareness
 
Praise for Craig Johnson and the Walt Longmire Mystery Series
 

"Like the greatest crime novelists, Johnson is a student of human nature. Walt Longmire is strong but fallible, a man whose devil-may-care stoicism masks a heightened sensitivity to the horrors he's witnessed. Unlike traditional genre novelists who obsess mainly over every hairpin plot turn, Johnson's books are also preoccupied with the mystery of his characters' psyches."—Los Angeles Times
 

"Johnson knows the territory, both fictive and geographical, and tells us about it in prose that crackles."—Robert B. Parker
 

"The characters talk straight from the hip and the Wyoming landscape is its own kind of eloquence."—The New York Times
 

"[Walt Longmire] is an easy man to like…Johnson evokes the rugged landscape with reverential prose, lending a heady atmosphere to his story."—The Philadelphia Inquirer
 

"Stepping into Walt's world is like slipping on a favorite pair of slippers, and it's where those slippers lead that provides a thrill. Johnson pens a series that should become a 'must' read, so curl up, get comfortable, and enjoy the ride."—The Denver Post
 

"A winning piece of work…There's a convincing feel to the whole package: a sense that you're viewing this territory through the eyes of someone who knows it as adoring lover and skeptical onlooker at the same time."—The Washington Post
 

"Johnson's pacing is tight and his dialogue snaps."—Entertainment Weekly
 

"Truly great. Reading Craig Johnson is a treat…[He] tells great stories, casts wonderful characters and writes in a style that compels the reader forward."—Wyoming Tribune Eagle
Viking, 9780525427919, 208pp.
Publication Date: October 21, 2014
About the Author
Craig Johnson is the author of the award-winning and New York Times bestselling Longmire mystery series, the basis for Longmire, the hit A&E original drama series. Johnson's next Longmire book, Any Other Name, will be published May 13, 2014. He lives in Ucross, Wyoming, population twenty-five. Visit craigallenjohnson.com and aetv.com/longmire.
or
Not Currently Available for Direct Purchase