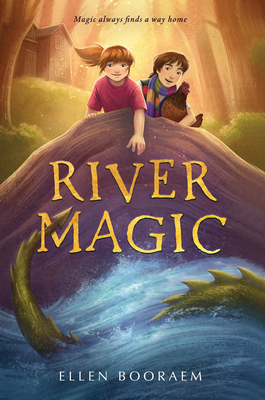 River Magic
Hardcover

* Individual store prices may vary.
Description
Magic moves in next door in this hilarious and heartfelt middle grade fantasy about a resourceful girl battling a temperamental thunder wizard.

Donna's always liked her life by the river--that is, until her beloved aunt Annabelle died in a tragic kayaking accident. Now money's tight, her mom works all the time, and her best friend, Rachel, would rather hang out with her basketball teammates than with Donna. When a strange old woman moves in next door and hires Donna to clean part-time, she figures this is the perfect chance to get over her friendship troubles and help her family out--especially since the woman pays in gold. Turns out, Donna's new neighbor is an ancient, ornery thunder mage, and it doesn't take much to make her angry. Before Donna knows it, Rachel is in danger and Donna's family is about to lose their home. To save the day, Donna will need the help of a quirky new friend and the basketball team . . . plus the mysterious, powerful creature lurking in the river.
Praise For River Magic…
Kirkus Reviews Best Books selection
Maine Literary Award for Young People's Literature

*"There is greed, danger, breathtaking adventure, and even humor and joy. . . . Readers will recognize [Donna] as a kindred spirit and root for her all the way to a satisfying conclusion. . . . A carefully constructed interweaving of reality and magic that will transport and delight.—Kirkus Reviews, starred review

"A dense emotional core, resonant voice, and themes of grief, shifting friendships, and family enliven Booraem's contemporary fantasy, reminding readers that 'hope is everywhere.'"—Publishers Weekly

"The mix of the fantastical and the practical gives this light, quickly paced fantasy its vitality . . . On the serious side is a family on the verge of collapse and a girl who feels she's lost her best friend; on the playful, the colorful magic of pixies and the suspenseful action of a hand-to-hand fight with a baleful thunder mage."—Horn Book

"Recommended for fans of Katherine Applegate's Crenshaw who don't mind a bit of off-the-wall chicken magic."—School Library Journal

"No idle fantasy. . . . Booraem writes with a strong sense of humor and whimsey. . . . In River Magic, the ties that bind us together—to friends, to home and most of all, between sisters—are tested, frayed and ultimately renewed and strengthened."—Portland Press Herald
Dial Books, 9780525428046, 256pp.
Publication Date: April 27, 2021
About the Author
Ellen Booraem, a native of Massachusetts, now lives in Downeast Maine. She is the author of The Unnameables (an ALA Best Book for Young Adults), Small Persons With Wings, and Texting the Underworld. All of Ellen's books have, among other awards, been picked as Best Books of the Year by Kirkus Reviews. In addition to being a writer, Ellen is also a mentor and a writing coach. She lives with a cat, a dog, and an artist in a house they (meaning the humans) built with their own hands.