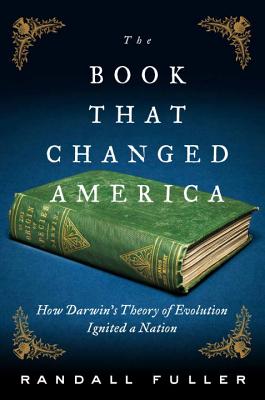 The Book That Changed America
How Darwin's Theory of Evolution Ignited a Nation
Hardcover

* Individual store prices may vary.
Other Editions of This Title:
Digital Audiobook (1/23/2017)
Paperback (1/2/2018)
Description
A compelling portrait of a unique moment in American history when the ideas of Charles Darwin reshaped American notions about nature, religion, science and race

"A lively and informative history." – The New York Times Book Review

Throughout its history America has been torn in two by debates over ideals and beliefs.  Randall Fuller takes us back to one of those turning points, in 1860, with the story of the influence of Charles Darwin's just-published On the Origin of Species on five American intellectuals, including Bronson Alcott, Henry David Thoreau, the child welfare reformer Charles Loring Brace, and the abolitionist Franklin Sanborn. 
 
Each of these figures seized on the book's assertion of a common ancestry for all creatures as a powerful argument against slavery, one that helped provide scientific credibility to the cause of abolition.  Darwin's depiction of constant struggle and endless competition described America on the brink of civil war.  But some had difficulty aligning the new theory to their religious convictions and their faith in a higher power.  Thoreau, perhaps the most profoundly affected all, absorbed Darwin's views into his mysterious final work on species migration and the interconnectedness of all living things.
 
Creating a rich tableau of nineteenth-century American intellectual culture, as well as providing a fascinating biography of perhaps the single most important idea of that time, The Book That Changed America is also an account of issues and concerns still with us today, including racism and the enduring conflict between science and religion.
Praise For The Book That Changed America: How Darwin's Theory of Evolution Ignited a Nation…
"Fuller is a lively, engaging writer, with an eye for fascinating details. . .[he] has mined this rich material with care and insight. . .[His] most surprising revelation is the profound impact Darwin's portrait of a 'teeming, pulsating natural world' exerted on Thoreau."
– The New York Times Book Review

"A stimulating chronicle of a group of New England thinkers who responded to the Origin of Species in the years following the book's first appearance. . .Fuller can be commended for illuminating Darwin's early effect on America in ways that lead us to think about later repercussions, including today's debates over creationism and science-denial."
--The Wall Street Journal
 
"An intellectual history that reads as a drama. . .Fuller's tale is of Darwin and abolition and moral battles that led to literal ones; it is also, more simply, the story of humans wrestling with insights that would change the world and their place in it.  The story is evocatively told:  Fuller is an excellent writer, with an eye for irony and a unique ability to inject suspense into a story."
--The Atlantic
 
"A vivid snapshot of American intellectual life on the verge of the Civil War. . .Fuller draws lively character sketches. . .displaying a flair for evocative scene setting.. .the book's loveliest passages show Thoreau embracing Darwin's celebration of nature's abundance and turning it to his own purposes."
--The Boston Globe
 
"Fuller's book offers us a vivid portrait of how On the Origin of Species debuted in America's intellectual culture during a watershed moment in the nation's history. . .Moving deftly amid a diversity of familiar American figures, including novelists, poets, philosophers, zoologists, and botanists, Fuller captures their excitement, as well as their debates over Darwin's ideas."
--Science

"Fuller's book is a timely one. . .[he] has a compelling story to tell, and he tells it well.  His narrative is lush with memorable detail, and. . .he is a master at making his characters come alive."
– The American Scholar

"A vibrant history of the reception of Charles Darwin's ideas by American minds and spirits . . . Fuller creates a rich tapestry of personalities and roiling ideas.  In radiant prose, and with a sure eye for the telling detail, [he] reveals the shattering impact of Darwin's book on religious thought, scientific inquiry, and especially on debates over slavery . . . A fresh, invigorating history of philosophical and political struggles."
– Kirkus Reviews (starred)

"In this inventive work, which weaves two powerful events into a vibrant tapestry of antebellum intellectual life, Fuller beautifully describes how the engagement by a group of Transcendentalists with Darwin's newly published On the Origin of Species deepened their commitment to the antislavery movement. . .Elegant writing and an unusual approach to interpreting the time period make this a must-read for everyone interested in Civil War-era history."
– Publishers Weekly (starred review)

"Charles Darwin's Origin of Species burst upon America at the same time that the nation was descending into disunion and civil war. Randall Fuller has ingeniously combined these stories in this fascinating study of Darwin's impact especially on the Transcendental intelligentsia of Concord: Thoreau, Emerson, Bronson Alcott and his daughter Louisa May.  These and other famous contemporaries emerge in a fresh perspective in this stimulating book." 
--James M. McPherson, author of The War That Forged a Nation: Why the Civil War Still Matters
 
"Randall Fuller's ingenious The Book That Changed America draws together seemingly disparate strains of American thought and activism by charting the progress of Darwin's masterwork as it was literally passed from hand to hand by eager readers during its first year of publication.  There are dark stories here of the 'developmental' theory—evolution--inspiring notions of racial superiority; yet those who read Darwin with open minds were thrilled to find, as Thoreau wrote, evidence of 'a sort of new creation,' or as Frederick Douglass foresaw, hope for 'the magnificent reunion of mankind in one brotherhood.'  With its cast of vivid characters and the fate of the nation in the balance, Fuller's utterly convincing narrative gives science a starring role in the run up to the Civil War."
--Megan Marshall, Pulitzer Prize-winning author of Margaret Fuller: A New American Life
 
"Randall Fuller makes Concord glow with this beautifully-written account of what happened in 1860 when somebody brought a new book along to a dinner party.  It was the very first copy of Darwin's Origin of the Species to reach these shores, and in tracing its influence on Thoreau among others Fuller shows both the web of friendship through which scientific knowledge spread, and its inseparability from the politics of its day."
--Michael Gorra, author of Portrait of a Novel:  Henry James and the Making of An American Masterpiece
   
"Fuller's eye-opening account of the arrival of Darwin to America holds many surprises, above all that Origin of Species was greeted joyfully by its first American readers not as evolutionary science but as a revolutionary exposé of the racist thinking behind Southern slavery. Even as the Civil War remade their world, these earliest readers wrestled with Darwin's ideas: some doubted, many accepted (more or less), and a few—like Thoreau—embraced the beauty of Darwin's view of life. Fuller shows how ideas come to life, shaped by chance meetings, life-changing enthusiasms, perverse misunderstandings, cataclysmic events, and sudden betrayals. If you ever doubted that ideas can change the world—or if you ever wondered how—read this book!"
--Laura Dassow Walls, author of the forthcoming Henry David Thoreau: A Life
 
"The Book That Changed America offers a lively, wide-ranging, informative account of the enthusiasm—and consternation—provoked by Darwin's masterpiece among his first influential American readers."
--Lawrence Buell, Harvard University, Powell M Cabot Professor of American Literature Emeritus
 
"Randall Fuller has produced a vibrant and ingenious intellectual history of Civil War-era America by tracing the coterie circulation of a single copy of Charles Darwin's On the Origins of Species. Read and discussed by five of antebellum America's most conspicuous intellectuals, this copy of Darwin's 'dangerous' book transformed how Asa Gray, Charles Loring Brace, Franklin Sanborn, Bronson Alcott, and Henry David Thoreau thought about a range of contemporary issues, especially race, slavery, and increasing sectional tension in the United States. Fuller's beautifully written book promises to reignite a number of debates about evolution, the history of science, and the role of books and reading in the nineteenth century." 
--Coleman Hutchison, author of Apples and Ashes: Literature, Nationalism, and the Confederate States of America

"This is one of the most original and important books on the Civil War era to appear in years.  Brilliantly conceived and elegantly written, Randall Fuller shows how and why Darwin's Origin of Species emerged at the center of intellectual and cultural debates that transformed the nation."
– John Stauffer, author of The Black Hearts of Men:  Radical Abolitionists and the Transformation of Race

Viking, 9780525428336, 304pp.
Publication Date: January 24, 2017
About the Author
Randall Fuller is the author of From Battlefields Rising: How the Civil War Transformed American Literature, which won the Phi Beta Kappa's Christian Gauss Award for best literary criticism, and Emerson's Ghosts: Literature, Politics, and the Making of Americanists. He has written for The New York Times, The Wall Street Journal, and other publications, and has received fellowships from the Guggenheim Foundation and the National Endowment for the Humanities. He is the Chapman Professor of English at the University of Tulsa.
or
Not Currently Available for Direct Purchase