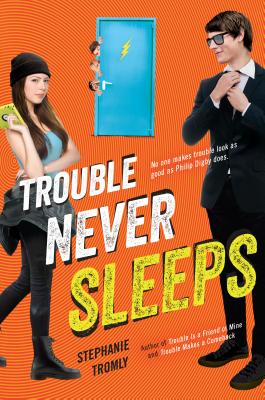 Trouble Never Sleeps (Hardcover)
Kathy Dawson Books, 9780525428428, 304pp.
Publication Date: April 24, 2018
Other Editions of This Title:
Digital Audiobook (4/23/2018)
Paperback (4/2/2019)
* Individual store prices may vary.
Description
Happily Ever After gets a serious makeover in this swoony, non-stop, thrill-ride of a conclusion to the Trouble Is a Friend of Mine trilogy

Digby and Zoe have been skirting around each other for so long that you might think they'd lose their magic if they ever actually hooked up. But never fear--there's all the acerbic wit, steamy chemistry, and sarcastic banter you could possibly hope for.

Now that Digby's back in town with a new lead, he's plunged Zoe (and their Scooby Gang of wealthy frenemy Sloane, nerd-tastic genius Felix, and aw-shucks-handsome Henry) into the deep end on the hunt for his kidnapped sister. Sure, it could require breaking into a government research facility (not to mention a little light treason), and yes, Zoe could be jeopardizing her Ivy League future. But dating Digby was never going to be short on danger, and it's worth it if it helps him get the closure he so desperately needs. The schemes might be over-the-top but this Breakfast Club cast is irresistibly real as they cope with regular high school stuff from social media shaming to dating your best friend, all with a twist no one will see coming.

"I'm in awe of Tromly because of what she has pulled off. . . this book sings."--Jesse Andrews, author of Me and Earl and the Dying Girl and The Haters on Trouble Is a Friend of Mine
About the Author
Stephanie Tromly was born in Manila, grew up in Hong Kong, graduated from the University of Pennsylvania, and worked as a screenwriter in Los Angeles. She is currently on leave from her PhD program in English Literature at the University of Toronto and lives in Winnipeg with her husband and young son. Stephanie is the author of the Trouble Is a Friend of Mine trilogy.
Praise For Trouble Never Sleeps…
"This third outing finds Tromly at the top of her game, seamlessly weaving in high-school scandal, government espionage, a hilarious mix of high- and low-culture references, and social-media sabotage in a turbocharged plot…If this is the last tango with Digby, at least we get to go out on a high note."—Booklist Online

"A fast read, with continuous action and nonstop witty banter."—VOYA


Praise for Trouble Is a Friend of Mine:
 • Publishers Weekly Best Book of the Year

"In what reads like a combination of Veronica Mars and The Breakfast Club, debut author Tromly creates a screwball mystery with powerful crossover appeal."—Publishers Weekly, starred review

"This is one of those rare books that promises something unique and actually delivers beyond expectation. At least one copy belongs in every young adult collection—maybe even two or three."—VOYA, starred review

"Fast-talking, suit-wearing Digby is an exasperating teenage Sherlock—sharply observant, impatient with social niceties, and unafraid of authority figures. . . . Fans of Veronica Mars and Elementary will find much to like here . . . Zoe's sarcastic first-person narration is fresh and funny . . . an offbeat and entertaining caper."—Kirkus

"An engrossing and satisfying read . . . Hand this one out along with a Chandler or Hammett classic and the first season of Veronica Mars."—BCCB, starred review

"A fast-paced story. . . . Readers will find a sharply drawn character in the irrepressible Zoe, who's as dubious about Digby's methods as she is curious about whether or not she can live up to his daredevilry."—SLJ

"With acerbic banter and a healthy dose of high-school high jinks, screenwriter Tromly weaves together traditional elements of teen stories to create a Breakfast Club for a new century."—Booklist


Praise for Trouble Makes a Comeback:
"The author bounces her characters off one another in spectacular ways, crafting drama, suspense, love, and exasperation with ease. . . . Readers will surely want to join Digby and Zoe for another round."—Kirkus

"Tromly excels at oddball character chemistry as well as crackling dialogue. . . . This zany sequel has everything to make fans of the first outing swoon."—Booklist Online