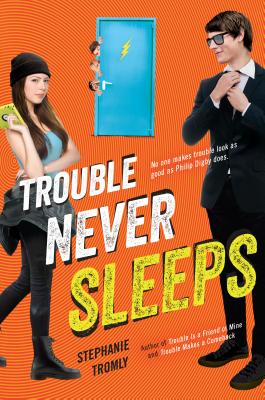 Trouble Never Sleeps (Hardcover)
Kathy Dawson Books, 9780525428428, 304pp.
Publication Date: April 24, 2018
* Individual store prices may vary.
Description
Happily Ever After gets a serious makeover in this swoony, non-stop, thrill-ride of a conclusion to the Trouble Is a Friend of Mine trilogy Digby and Zoe have been skirting around each other for so long that you might think they'd lose their magic if they ever actually hooked up. But never fear--there's all the acerbic wit, steamy chemistry, and sarcastic banter you could possibly hope for. Now that Digby's back in town he's plunged Zoe (and their Scooby Gang of wealthy frenemy Sloane, nerd-tastic genius Felix, and aw-shucks-handsome Henry) back into the deep end on the hunt for his kidnapped sister. He's got a lead, but it involves breaking into a secret government research facility, paying a drug dealer off with a Bentley, and possibly committing treason. The schemes might be over-the-top but this Breakfast Club cast is irresistibly real as they cope with regular high school stuff from social media shaming to dating your best friend, all with a twist no one will see coming. "I'm in awe of Tromly because of what she has pulled off. . . this book sings."--Jesse Andrews, author of Me and Earl and the Dying Girl and The Haters on Trouble Is a Friend of Mine
About the Author
Stephanie Tromly was born in Manila, grew up in Hong Kong, graduated from the University of Pennsylvania, and worked as a screenwriter in Los Angeles. She is currently on leave from her PhD program in English Literature at the University of Toronto and lives in Winnipeg with her husband and young son. Stephanie is the author of the Trouble Is a Friend of Mine trilogy.