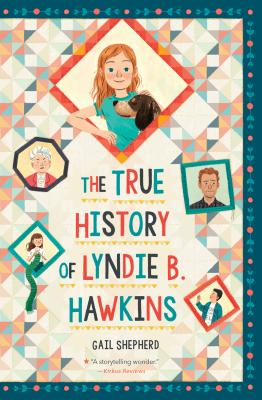 The True History of Lyndie B. Hawkins (Hardcover)
Kathy Dawson Books, 9780525428459, 304pp.
Publication Date: March 26, 2019
Other Editions of This Title:
Paperback (3/24/2020)
* Individual store prices may vary.
Description
"A storytelling wonder."--starred review, Kirkus Reviews
A Publishers Weekly Flying Start
***Four starred reviews!***

Lyndie B. Hawkins loves history, research, and getting to the truth no matter what. But when it comes to her family, her knowledge is full of holes. Like, what happened to her father in the Vietnam War? Where does he disappear to for days? And why exactly did they have to move in with her grandparents?

Determined to mold recalcitrant Lyndie into a lady even if it kills her, her fusspot grandmother starts with lesson number one: Family=Loyalty=Keeping quiet about family secrets. Especially when it comes to Lyndie's daddy.

Then DB, a boy from the local juvenile detention center comes to stay with Lyndie's best friend, Dawn. He's as friendly and open as a puppy. There to shape up his act, he has an optimism that's infectious. But when DB and Lyndie are paired for a school project about family history, it puts Lyndie in direct opposition to her grandmother's rules.

A one-of-a-kind voice lights up this witty, heartwarming debut about the power of homespun wisdom (even when it's wrong), the clash between appearances and secrets, the effects of PTSD, and the barriers to getting help even when it's needed most.
About the Author
Gail Shepherd received her creative MA from the University of Florida in poetry. She has collaborated on radio plays, written comic serial magazine stories, and published her own biweekly indie newspaper. She currently works in the K-12 education industry, supporting teachers and schools with training and technology. She is a fourth-generation Floridian on her mother's side, and she lives in South Florida now with her little family, two dogs, and an awful lot of mosquitoes. The True History of Lyndie B. Hawkins is her debut novel.
Praise For The True History of Lyndie B. Hawkins…
★ "Readers will lose their hearts to this sassy and aching heroine. Full of Southern toughness and mountain charm, her fierce and funny voice fills the pages with fine storytelling. This hope-filled book is a beautiful picture of broken humanity, a storytelling wonder."—Kirkus Reviews, starred review

★ "Lyndie's narration is frank and funny, but it's her love of research and history that sets her apart."—Booklist, starred review

★ "Shepherd's crackling debut . . . moves at a quick pace . . . Noteworthy for its strong narrative voice and dramatic character development . . . with unflinching honesty and humor."—Publishers Weekly, starred review

★ "A heartwarming story about forgiveness, moving forward through life challenges, and becoming your best self. You will love Lyndie's character and be rooting for her . . . It keeps you on the edge of your seat . . . Great for lovers of realistic or historical fiction."—School Library Connection, starred review

"An evocative story of healing and hope."—School Library Journal

"Put aside the other books on your shelf. Read this one. Now. It will pierce your heart in the best possible way and linger there, changing you bit by bit. This is an extraordinary novel that will leave you forever changed, your humanity broadened. Each sentence is a small piece of art."—Donna Gephart, author of Lily and Dunkin and In Your Shoes

"Perfect for fans of Barbara O'Connor, Lyndie's voice leaps off the page, and her spunk, big heart, and dog, Hoopdee, leave you longing for the Smoky Mountains she calls home."—Shannon Hitchcock, author of One True Way and Ruby Lee & Me

"Lyndie B. Hawkins is a crackerjack narrator—her smarts, sass and vulnerability hooked me on page one, and never let me go. This is a bang-up book about being eleven in a fast-changing world, about lies gone sideways, and about the courage it takes to claim and live the truth. Go, Lyndie!"—Sheila Turnage, author of the Newbery Honor book Three Times Lucky

"When was the last time a story broke your heart and made you laugh in the same chapter? A veritable gold mine of perfect words and fine storytelling, The True History of Lyndie B. Hawkins will stay with you long after you close the book."—Augusta Scattergood, author of Glory Be