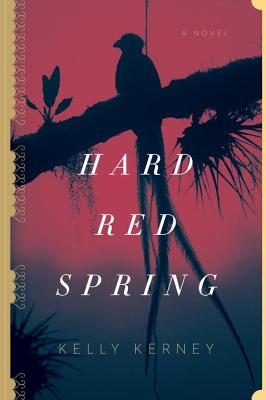 Hard Red Spring (Hardcover)
A Novel
Viking, 9780525429012, 448pp.
Publication Date: March 29, 2016
Other Editions of This Title:
Paperback (3/28/2017)
* Individual store prices may vary.
Description
An ambitious and unforgettable epic novel that spans a hundred years of Guatemala's tumultuous history as experienced by four American women who are linked by the mysterious disappearance of a little girl
 
In 1902, a young girl watches her family's life destroyed by corrupt officials and inscrutable natives. In 1954, the wife of the American ambassador becomes trapped in the intrigue of a cold war love affair. In 1983, an evangelical missionary discovers that the Good News may not be good news at all to the Mayan refugees she hopes to save. And in 1999, the mother of an adopted Mayan daughter embarks on a Roots Tour only to find that the history she seeks is not safely in the past.
 
Kelly Kerney's novel tells a powerful story that draws on the history of Guatemala and the legacy of American intervention to vividly evoke The Land of Eternal Spring in all its promise and all its devastating failures. This is a place where a volcano erupts and the government sends a band to drown out the sound of destruction; where a government decree reverses the direction of one-way streets; a president decides that Pat Robertson and Jesus will save the country; and where a UN commission is needed to determine the truth. A heartrending and masterfully written look at a country in perpetual turmoil, Hard Red Spring brilliantly reveals how the brutal realities of history play out in the lives of individuals and reveals Guatemala in a manner reminiscent of the groundbreaking memoir I, Rigoberta Menchu.
About the Author
Kelly Kerney's first novel, Born Again, was listed among the best debuts of the year by Kirkus Reviews, was a Book Sense Pick, and was recognized by the New York Public Library as one of the best books of 2006.  A Virginia Commission for the Arts fellowship recipient, she lives in Richmond, Virginia.
Praise For Hard Red Spring: A Novel…
Praise for Hard Red Spring

"This century-spanning novel examines the violent relationship between Guatemala and the United States through the connected stories of four American women. . . . Ambitious . . . Kerney's insights are rewarding." —The New Yorker

"Kerney's fine research, wealth of exact details, and control of the historical timeline will keep readers turning pages." —Publishers Weekly

"Hard Red Spring is an ambitious project. . . . Kerney's real daring, however, lies in her novel's emotional aim. She has crafted a story and a set of characters that require her readers to look squarely at what Americans — especially white Americans, the demographic most comfortable in the United States' myth of moral superiority — will do to maintain our innocence, and what we will do, and have done, in the face of guilt. . . . Hard Red Spring gathers momentum as it progresses. . . . as the story moves into more recent decades, its prose grows robust with sharply-imagined detail. The weave of the plot tightens, and building suspense makes for a gripping read. Kerney is at her best in her wry observations of her characters." —The Millions

"A multigenerational, multi-viewpoint tale that's a meditation on everything from history to cultural context to personal strife, Kelly Kerney's second novel is an adept meditation on the weight of history. . . . Interweaving stories of love, loss and confusion with beautiful prose and pacing, Hard Red Spring will pull readers through page after page." —BookPage

"[Kerney] sensitively and skillfully interweaves...disparate stories into one in which the women, both Mayan and American, continue to matter; where the men—­husbands, dictators and soldiers on both sides of the various conflicts—are portrayed in unflinching terms; and where hope is a virtually nonexistent commodity." —Library Journal

"[A] powerful account of a century of Guatemala's turbulent history." —MarthaStewart.com

"Kelly Kerney's Hard Red Spring​ is that rare thing: a generations-spanning thriller with a political conscience. And Kerney is herself a rare thing: a novelist who has a terrific sense of humor and craft, but who also has a sense of what has gone wrong in this world, and whether any of us will ever be able to put it right again. A remarkable book." —​Brock Clarke, author of The Happiest People in the World

"In Hard Red Spring, Kelly Kerney brings a sharp satirical sensibility balanced with compassion that gives real insight into a generational tale of Guatemala and the way historical and human forces can combine with unexpected cruelties to test all that is human about us. It is a credit to the story and the writing that we emerge hopeful and triumphant." —Chris Abani, author of The Secret History of Las Vegas and The Virgin of Flames

"Hard Red Spring is an ambitious exploration of the perverse and eternally tragic relationship between the United States and Guatemala. Kelly Kerney is a powerful storyteller, and the challenging border crossings she undertakes as a writer result in many moving perceptions and insights." —Francisco Goldman, author of Say Her Name


Praise for Born Again

"Charmingly real and sympathetic." —Entertainment Weekly

"Entertaining . . . Throughout, Kerney successfully reveals the manifold contradictions and inconsistencies inherent in adult life." —The San Francisco Chronicle

"Like yin and yang, zealotry and doubt animate this intriguing debut. Mel is a terrific character: curious, smart, and funny." —Publishers Weekly

"Born Again is a harrowing and frequently hilarious insider's examination of Christian fundamentalism. It's enough to make an atheist pray—that this is not America's future." —Richard Russo

"Charming and insightful." —Kirkus Reviews (starred review)

"The tale of a young Pentecostal's test of faith, Kerney's debut novel has guts and strength, even as it pivots on its narrator's uncertainty. . . . Though it would be easy to clobber readers with such an obvious message, Kerney executes it subtly and skillfully." —The New York Times
or
Not Currently Available for Direct Purchase