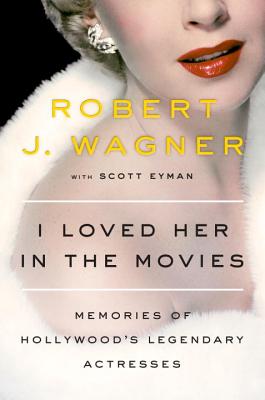 I Loved Her in the Movies (Hardcover)
Memories of Hollywood's Legendary Actresses
Viking, 9780525429111, 256pp.
Publication Date: November 15, 2016
Other Editions of This Title:
Digital Audiobook (11/14/2016)
Paperback (11/7/2017)
CD-Audio (11/15/2016)
* Individual store prices may vary.
Description
Film and television actor and New York Times bestselling author Robert Wagner's memoir of the great women movie stars he has known.
 
In a career that has spanned more than sixty years Robert Wagner has witnessed the twilight of the Golden Age of Hollywood and the rise of television, becoming a beloved star in both media. During that time he became acquainted, both professionally and socially, with the remarkable women who were the greatest screen personalities of their day. I Loved Her in the Movies is his intimate and revealing account of the charisma of these women on film, why they became stars, and how their specific emotional and dramatic chemistries affected the choices they made as actresses as well as the choices they made as women.
 
Among Wagner's subjects are Joan Crawford, Bette Davis, Marilyn Monroe, Gloria Swanson, Norma Shearer, Loretta Young, Joan Blondell, Irene Dunne, Rosalind Russell, Dorothy Lamour, Debra Paget, Jean Peters, Linda Darnell, Betty Hutton, Raquel Welch, Glenn Close, and the two actresses whom he ultimately married, Natalie Wood and Jill St. John. In addition to offering perceptive commentary on these women, Wagner also examines topics such as the strange alchemy of the camera—how it can transform the attractive into the stunning, and vice versa—and how the introduction of color brought a new erotic charge to movies, one that enabled these actresses to become aggressively sexual beings in a way that that black and white films had only hinted at.
 
Like Wagner's two previous bestsellers, I Loved Her in the Movies is a privileged look behind the scenes at some of the most well-known women in show business as well as an insightful look at the sexual and romantic attraction that created their magic.
About the Author
Robert Wagner is the star of such films as A Kiss Before Dying, The Longest Day, The Pink Panther, and most recently, the Austin Powers franchise. On television, he starred in It Takes a Thief (with Fred Astaire), Switch (with Eddie Albert and Sharon Gless), and Hart to Hart (with Stefanie Powers). He has recently appeared on Two and a Half Men and NCIS. The author of the New York Times bestsellers Pieces of My Heart and You Must Remember This, Wagner is married to actress Jill St. John.
 
Scott Eyman is the author of thirteen books about the movies, including Lion of Hollywood: The Life of Louis B. Mayer (which the Wall Street Journal called one of the five best books ever written about Hollywood), Empire of Dreams: The Epic Life of Cecil B. DeMille, and more recently, the New York Times bestseller John Wayne: The Life and Legend.
Praise For I Loved Her in the Movies: Memories of Hollywood's Legendary Actresses…
"He's wooed—and worked with—some of the biggest actresses of his time, including Elizabeth Taylor, Marilyn Monroe and his one-time wife, Natalie Wood. And now Robert Wagner has written a memoir, titled I Loved Her in the Movies, as a tribute to some of his favorite screen stars. 'I had this gift of meeting wonderful women and working with a lot of them and it was amazing,' says the 86-year-old actor. 'They made an imprint on me and on all of our lives.'"
—Liz McNeil, People
 
"Screen legend Robert Wagner has worked with some of the greatest female screen personalities of all time, from Marilyn Monroe to Audrey Hepburn, Elizabeth Taylor to his former wife, Natalie Wood, and more. Wagner's new memoir, I Loved Her in the Movies, pays tribute to his talented female counterparts over his 60 year career. . . . Wagner discussed the issue of gender equality in Hollywood and admitted that it's difficult for women, even in more recent years. 'It's a business that's run mostly by men. And—I think when you become successful and you become—an object—they're put upon so much. . . . it's hard to separate all of that.'"
—ABC News
 
"Wagner's engaging memoir offers a warm embrace for the many women who helped him establish a successful career as a leading man or inspired him professionally and personally in their unforgiving business. . . . I Loved Her in the Movies is a delight in large part because Wagner can see . . . great female stars from a fan's perspective. They were his colleagues and friends—some were his lovers—but he never lost his admiration for the women who could move an audience to cheers and tears. . . . What might be most surprising in the pages of I Loved Her in the Movies is the streak of feminism that runs through his reflections on stardom, the nature of talent and the demands of a Hollywood career. Actors had it tough in the studio system, but actresses endured even more in a business that, Wagner notes, was run by and for men who expected women to be submissive. Those who were not, like Bette Davis and Olivia de Havilland, paid an even higher price for daring to rock the boat."
—Douglass K. Daniel, Associated Press
 
"When Robert Wagner and longtime collaborator Scott Eyman decided to team up once again to explore the lives of Hollywood's greatest and most titillating actresses, everyone was on board — including the two very special women in their lives. 'Our wives loved the idea! That was one of the things that kicked us into writing,' explains Wagner of what prompted him to write his latest book. . . . I Loved Her in the Movies is more than just another memoir, but rather an engaging love letter to the women who have captivated hearts all over the globe, and even to this day. Both fans of Hollywood's Golden Age and readers eager to explore Wagner's many personal relationships are in for a treat, because the actor himself still has plenty to say."
—Stephanie Nolasco, Fox News Magazine
 
"Wagner reflects on a lifetime spent living on the silver screen, sharing intimate recollections working alongside and knowing some of our most beloved female stars. . . . A "love letter" to these many revered women . . . . Wagner discusses the way Hollywood female stars were marketed by studios and how the images of femininity changed over time, such as how the the 1940s femme fatale star—Joan Crawford, Lauren Bacall, Barbara Stanwyck—gave way to the 'sweater girls' of the 1950s, such as Marilyn Monroe and Jayne Mansfield."
—Forbes
 
"I Loved Her in the Movies is Wagner's collection of personal anecdotes and memories of Shearer, Bette Davis, Barbara Stanwyck, Marilyn Monroe, Lana Turner, Elizabeth Taylor and pretty much every A-list actress of the 1940s through 1970s.Wagner loved them in the movies — and sometimes in the bedroom. . . . Collaborating with Wagner is a Hollywood historian's joy, Eyman says, because the actor's memory for revealing details is so sharp. . . . Wagner remembers so much, Eyman says, because he is the rare actor who is more interested in other people than himself. . . . 'He never got over being a fan. When he got to know these actresses professionally and socially, he was paying attention to them the way a fan would . . . he noticed details you wouldn't notice if you were simply hobnobbing with your peers.' Wagner is also a man who genuinely likes women, Eyman says. 'I think his relationships with women have defined his life.'
—Jan Tuckwood, Palm Beach Post
 
"Wagner writes a valentine to the 'female movie stars that defined my generation.' . . . There are tidbits of gossip—Fred McMurray was a tightwad; Veronica Lake was given to anti-Semitic outbursts—but most of the book contains casual recollections. His digression about the Studio Club, a residence house for actresses, is more interesting. . . . What emerges most strongly is Wagner's sympathy and respect for the resilient women who had to fight harder than men to survive in Hollywood."
—Publishers Weekly
 
"[Wagner's] knowledge of Hollywood film history is prodigious. . . . The author is succinct and pithy at giving a sense/opinion of who [these women] were as people and what their strengths were as actresses. . . . Frothy and honest remembrances for gossipy movie fans."
—Kirkus Reviews
or
Not Currently Available for Direct Purchase