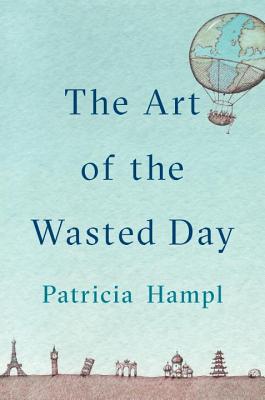 The Art of the Wasted Day
Hardcover

* Individual store prices may vary.
Other Editions of This Title:
Digital Audiobook (4/16/2018)
Paperback (4/16/2019)
Description
"A sharp and unconventional book — a swirl of memoir, travelogue and biography of some of history's champion day-dreamers." —Maureen Corrigan, "Fresh Air"

A spirited inquiry into the lost value of leisure and daydream

The Art of the Wasted Day is a picaresque travelogue of leisure written from a lifelong enchantment with solitude. Patricia Hampl visits the homes of historic exemplars of ease who made repose a goal, even an art form. She begins with two celebrated eighteenth-century Irish ladies who ran off to live a life of "retirement" in rural Wales. Her search then leads to Moravia to consider the monk-geneticist, Gregor Mendel, and finally to Bordeaux for Michel Montaigne--the hero of this book--who retreated from court life to sit in his chateau tower and write about whatever passed through his mind, thus inventing the personal essay.

Hampl's own life winds through these pilgrimages, from childhood days lazing under a neighbor's beechnut tree, to a fascination with monastic life, and then to love--and the loss of that love which forms this book's silver thread of inquiry. Finally, a remembered journey down the Mississippi near home in an old cabin cruiser with her husband turns out, after all her international quests, to be the great adventure of her life.

The real job of being human, Hampl finds, is getting lost in thought, something only leisure can provide. The Art of the Wasted Day is a compelling celebration of the purpose and appeal of letting go.
Praise For The Art of the Wasted Day…
"It's impossible to do justice to the cumulative power of Hampl's dream-weaver writing style by just quoting a few lines. You have to go on the whole voyage with her . . . by wasting some of your time with Hampl, you'll understand more of what makes life worth living." – Maureen Corrigan, "Fresh Air"

"Hampl's lyrical repetitions and abstractions can be as poetic as prayer." – The Wall Street Journal

"The Art of the Wasted Day is literary art in and of itself . . . Hampl invites readers to take a journey to explore the idea of a life steeped in leisure without schedules." – The Washington Post

"A wise and beautiful ode to the imagination – from a child's daydreams, to the unexpected revelations encountered in solitary travel, meditation, and reading, to the flights of creativity taken by writers, artists, and philosophers." – The Minneapolis Star Tribune
 
"Sharp and unconventional . . . a swirl of memoir, travelogue and biography of some of history's champion daydreamers." – The Seattle Times

"A moving, lyrical, intellectually bracing read . . . part essay, part travelogue, part interrogative memoir, part mourning love letter, The Art of the Wasted Day touches on a head-spinning range of historical and literary phenomena . . . Hampl dexterously turns all these topics into lenses bent on a central concern:  the value of a certain kind of psychic space, which she refers to as 'leisure.'" – Commonwealth 

"About how rich life is when one focuses, at least part of the time, on being rather than on doing . . . it's about being still, being aware, about seeing what is in front of your eyes, about being open to what one thinks and remembers and feels." – The Chicago Tribune
 
"Hampl [is] an eloquent apologist for solitude.  It is not just important to the creative life, she proposes, but a cornerstone of spiritual well-being.  Its prime function, and prize, is a closer experience of reality." – The Boston Globe

"Hampl lets her mind wander, as one does on a wasted day. Readers familiar with her work will recognize the confident tone and poetry-infused language." – Ploughshares

"Delightfully nebulous – dangling somewhere between travelogue, literary criticism, memoir, and love letter . . . Hampl's style is so lithe and lively that I happily followed her anywhere . . . reading her thoughts is a bit of magic that allows us to share in the solitude of ideas together." – The American Scholar

"A wonderfully lavish and leisurely exploration of the art of daydreaming . . . [a] remarkable and touching book." – Publishers Weekly (starred review)

"An exquisite anatomy of mind and an incandescent reflection on nature, being, and rapture . . . Memoirist extraordinaire Hampl [is] a master of judiciously elegant vignettes and surprising, slowing unfurling connections." – ALA Booklist (starred)

"Lucent, tender, and wise . . .  a captivating and revelatory memoir." – Kirkus Reviews (starred review)

"Vivid, passionate, bursting with ideas and insights, Patricia Hampl's new book is a summation of a lifetime of sensitive searching and thinking.  A love story, a meditation on death, travel, Americanness, Catholicism, integrity and Montaigne, this beautiful journey is finally about the education of a soul."  – Phillip Lopate

"This book, tender, curious and crazily wise, brings to mind Michel de Montaigne's saying that 'A spirited mind never stops within itself; it is always aspiring and going beyond its strength.'" – Azar Nafisi

"What ties together this beautiful book are the imaginary conversations born of Hampl's mourning for her life companion.  An elegy, a reader's pilgrimage, a reflection on the writing life, full of humor, surprises, and wisdom gently given, The Art of the Wasted Day is a book for the ages." – Alice Kaplan

"The art of Patricia Hampl is the art of a lyrical, contemplative self, a self as instrument attuned to the world's vibrations. Through reflection and investigation, vignette and daydream, she roams centuries and continents in this book." --Margo Jefferson

Viking, 9780525429647, 288pp.
Publication Date: April 17, 2018
About the Author
Patricia Hampl is the author of six prose works, including A Romantic Education and, most recently, The Florist's Daughter. Her work has appeared in many publications, including The New Yorker, The Paris Review, The New York Times, the Los Angeles Times, and Best American Essays.  The recipient of fellowships from the Guggenheim Foundation, the National Endowment for the Arts and the MacArthur Foundation, she lives in St. Paul, Minnesota.
Coverage from NPR
or
Not Currently Available for Direct Purchase