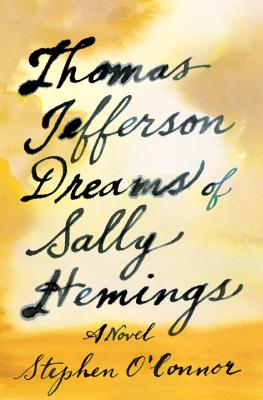 Thomas Jefferson Dreams of Sally Hemings
A Novel
Hardcover

* Individual store prices may vary.
Other Editions of This Title:
Paperback (5/2/2017)
Description
"Dazzling. . . The most revolutionary reimagining of Jefferson's life ever." –Ron Charles, Washington Post

Winner of the Crook's Corner Book Prize

Longlisted for the 2016 Center for Fiction First Novel Prize

A debut novel about Thomas Jefferson and Sally Hemings, in whose story the conflict between the American ideal of equality and the realities of slavery and racism played out in the most tragic of terms.
 
Novels such as Toni Morrison's Beloved, The Known World by Edward P. Jones, James McBride's The Good Lord Bird and Cloudsplitter by Russell Banks are a part of a long tradition of American fiction that plumbs the moral and human costs of history in ways that nonfiction simply can't. Now Stephen O'Connor joins this company with a profoundly original exploration of the many ways that the institution of slavery warped the human soul, as seen through the story of Thomas Jefferson and Sally Hemings. O'Connor's protagonists are rendered via scrupulously researched scenes of their lives in Paris and at Monticello that alternate with a harrowing memoir written by Hemings after Jefferson's death, as well as with dreamlike sequences in which Jefferson watches a movie about his life, Hemings fabricates an "invention" that becomes the whole world, and they run into each other "after an unimaginable length of time" on the New York City subway. O'Connor is unsparing in his rendition of the hypocrisy of the Founding Father and slaveholder who wrote "all men are created equal," while enabling Hemings to tell her story in a way history has not allowed her to. His important and beautifully written novel is a deep moral reckoning, a story about the search for justice, freedom and an ideal world—and about the survival of hope even in the midst of catastrophe.
Praise For Thomas Jefferson Dreams of Sally Hemings: A Novel…
Praise for Thomas Jefferson Dreams of Sally Hemings

"The most revolutionary reimagining of Jefferson's life ever. . .what a dazzling experience this book is for the intrepid reader. . . O'Connor's deeply humane treatment of Sally, whose actual thoughts will never be known to us, is the novel's most haunting accomplishment. Ultimately, this is a book in vigorous debate with itself, as strange and contradictory as the author of the Declaration of Independence. With its magically engineered collection of fiction, history, and fantasy, and particularly with its own capacious spirit, Thomas Jefferson Dreams of Sally Hemings doesn't just knock Jefferson off his pedestal, it blows us over, too, shatters the whole sinner-saint debate and clears out new room to reconsider these two impossibly different people who once gave birth to the United States. It's heartbreaking. It's cathartic. It's utterly brilliant."
—Ron Charles, The Washington Post
 
"In hundreds of brief, pointillist chapters, Mr. O'Connor reimagines their decades-long relationship . . . The effect is prismatic and utterly arresting  . . . Hemings is the novel's outstanding character, eloquent and capable, morally exacting and self-aware, now overflowing with tenderness, now seething with hatred. Jefferson cuts a far more ambivalent figure, unmatched in intelligence but often paralyzed by guilt."
—The Wall Street Journal

"Ambitious doesn't begin to describe the scope of the project O'Connor undertook. And successful doesn't begin to describe the wildly imaginative techniques he used to realize his authorial goal, which is clearly to humanize — equalize, you might say — the two members of this passionate, conflicted couple . . . What makes these literary gymnastics work is, in a word, talent . . . What justifies the risk is his insistence on using a full palette and tiny brushes to draw these characters, rejecting broad brush strokes in black and white. Rendered in all their complex, contradictory glory, Jefferson and Hemings seem to stand up on the page.'"
—The Chicago Tribune

"A brave and wondrous dream of a novel. . .[Hemings] is one of history's numberless mystery women, but she comes thoroughly and thrillingly alive in O'Connor's telling."
—NPR.org

"Gives voice to a woman who was treated as an asterisk for too long. . .[her] experience is at the heart of this novel. . .O'Connor compels us to look at both the ugliness in Jefferson's hypocrisies and the hopelessness in Hemings's resistance." 
—The Rumpus
                 
"What's striking about Stephen O'Connor's first novel, Thomas Jefferson Dreams of Sally Hemings, isn't just that he persuasively invents a relationship almost entirely of whole cloth. It's also a superb argument for why we do this imagining — in the novel's wilder moments where O'Connor weaves Jefferson into the present day, he underscores how hard it is to untangle slavery from the American conversation."
—The Minneapolis Star Tribune

"[F]ully acknowledging the tragedy of slavery, O'Connor produces a tale that is overflowing with the range of human emotion; in its depiction of feeling, the novel is often brilliant, dense in poetry and light on unearned sentimentality."
—Kirkus Reviews

"O'Connor is a brave writer. For his debut novel, he takes on an incredibly complicated, sensitive, and still-debated topic:  the decades-long relationship between Thomas Jefferson and Sally Hemings, an enslaved woman. Its format is impressively inventive and accessible, and it suits its subject.  Using traditional narrative, dream sequences, reimaginings, and excerpts from memoirs and Jefferson's writings, it moves beyond historical fiction to demonstrate the bitter, long-lasting aftereffects of Jefferson's moral hypocrisy. . . .this mind-expanding epic offers much to discuss."
—ALA Booklist (starred)

"By turns delicate and luminous, then searing and straightforward, Stephen O'Connor's novel sings – it is an epic dream and an epic read.  Sally Hemings and Thomas Jefferson come alive in this book, beautifully imagined, and so well-rendered that they become achingly human."
—Jesmyn Ward, National Book Award-winning author of Salvage the Bones

"A brilliant, huge-hearted act of the moral imagination. O'Connor has written a kind of quantum  historical novel--simultaneously fiction and nonfiction, wave and particle. With dreamlike fluidity, the story moves from the real halls of Monticello to Jefferson's musings in the afterlife, from meditations on the phenomenology of color to what the theft of dignity means. This book creates new facts to live by; it's stranger and braver than I know how to describe. Open to any page and you will see what I mean."
 —Karen Russell, author of Swamplandia!
 
"Expansive, riveting, and startlingly original, Thomas Jefferson Dreams of Sally Hemings seamlessly interweaves fact and fiction to make one of the most mysterious and politically charged relationships in all of American history heartbreakingly vivid and real. A richly imagined meditation on the human capacity for self-deception and on that troubling zone between exploitation and love."
 —Christina Baker Kline, author of Orphan Train
 
"I don't think I've ever read anything quite like this novel by Stephen O'Connor.  It's a history of oppression; it's a story of a complex connection; it's an American epic of Homeric proportions. Stephen O'Connor has brought into this work what I have long admired in his other writings – a wild imagination, a commitment to social and political concerns, and elegant, at times elegiac, prose. This is a tour de force." 
 —Mary Morris, author of The Jazz Palace

"This is an extraordinary book. It imagines the most intimate aspects of slavery in the way only fiction can—everything is freshly shocking and freshly human. And its wildly original use of dreamscape, fabulism, and philosophy gives us the layers these characters deserve, as it reinvents the historical novel."
—Joan Silber, author of Fools: Stories
Viking, 9780525429968, 624pp.
Publication Date: April 5, 2016
About the Author
Stephen O'Connor is the author of two collections of short fiction, Here Comes Another Lesson and Rescue, as well as Orphan Trains, an acclaimed history of a pioneering nineteenth-century child welfare effort, and Will My Name Be Shouted Out, a memoir. His fiction has appeared in many publications, including The New Yorker and The Best American Short Stories. He lives in New York City and teaches in the Columbia University and Sarah Lawrence MFA programs.
or
Not Currently Available for Direct Purchase