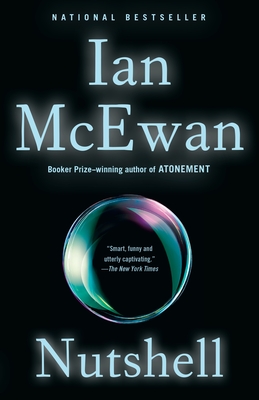 Nutshell
A Novel
Paperback

* Individual store prices may vary.
Other Editions of This Title:
Digital Audiobook (9/12/2016)
Hardcover (9/13/2016)
Compact Disc (9/13/2016)
Hardcover, Chinese (12/4/2019)
Description
NATIONAL BESTSELLER • A "suspenseful, dazzlingly clever and gravely profound" (The Washington Post) novel that brilliantly recasts Shakespeare and lends new weight to the age-old question of Hamlet's hesitation, from the Booker Prize winner and bestselling author of Atonement.

Trudy has been unfaithful to her husband, John. What's more, she has kicked him out of their marital home, a valuable old London town house, and in his place is his own brother, the profoundly banal Claude. The illicit couple have hatched a scheme to rid themselves of her inconvenient husband forever. But there is a witness to their plot: the inquisitive, nine-month-old resident of Trudy's womb.

As Trudy's unborn son listens, bound within her body, to his mother and his uncle's murderous plans, he gives us a truly new perspective on our world, seen from the confines of his.

Don't miss Ian McEwan's new novel, Lessons, coming in September!
Praise For Nutshell: A Novel…
A New York Times and Washington Post Notable Book
One of the Best Books of the Year: San Francisco Chronicle, NPR, Minneapolis Star Tribune, Oprah.com

"Smart, funny and utterly captivating." —The New York Times

"More brilliant than it has any right to be.... Suspenseful, dazzlingly clever and gravely profound." —The Washington Post

"Fantastically entertaining and frequently hilarious." —San Francisco Chronicle
 
"Nutshell is a joy: unexpected, self-aware, and pleasantly dense with plays on Shakespeare." —NPR

"Compact, captivating ... The writing is lean and muscular, often relentlessly gorgeous." —The New York Times Book Review

"Gorgeous.... Offer[s] the reader a voice both distinctive and engaging.... Rife with wordplay, social commentary, hilarity, and suspense. . . . Hats off to Ian McEwan." —The Boston Globe

"A comic tale.... It is a masterpiece." —The Times (London)

"McEwan is a literary pointillist—in control of each keystroke, creating small, precise masterpieces that delight with their linguistic prowess.... [A] daring thriller." —O, The Oprah Magazine

"Brilliant.... This novel is a thing of joy." —The Economist

"Brims with literary allusions, social commentary and murderous intrigue ... Gorgeous ... studded with Joycean reflections on fathers, the wisdom of pop songs and reviews of placenta-filtered fine wine." —Associated Press

"Nutshell is an orb, a Venetian glass paperweight of a book.... It is a consciously late, deliberately elegiac masterpiece, a calling together of everything McEwan has learned and knows about his art." —The Guardian (London)

"An enthralling read." —Marie Claire

"Nutshell belongs to that dark tributary of McEwan novels which includes The Cement Garden, The Innocent and Booker-winner Amsterdam—black comedies aswirl with macabre thoughts and foul deeds. It sees McEwan at his most playful.... [Readers should] applaud it for its beauty, precision and inventiveness." —Minneapolis Star Tribune

"A book pulsing with hilarious and brainy brio.... He simultaneously spoofs crime fiction and finds a novel mouthpiece for a mordantly entertaining and exhilaratingly intelligent commentary on the modern world." —The Sunday Times (London)

"[A] tour de force.... A slim, clever thriller with the grand good fortune of being written by the inimitable McEwan." —Buffalo News

"Not only does he pull it off, he does so triumphantly, in the cleverest book I've read this year. It's smart, dark and at times very funny." —The Daily Mail

"A highly original, imaginative thriller that is as entertaining as it is suspenseful." —Buzzfeed

"Nutshell may be a short book, but it is not hard to crack. And what lies within—the suspense of a murder plot, the matching game that's played when a classic story is retold, and the unique perspective of an unborn narrator—is quite pleasurable to both pick through and savor." —AV Club

"This dark, clever tale is among the best of McEwan's newer novels." —The Sunday Telegraph (London)

"Fiercely intelligent.... At once playful and deadly serious.... One of McEwan's hardest to categorize works, and all the more interesting for it." —The Times (London)

"Hilarious and compelling." —The Spectator

"A creative gamble that pays off brilliantly.... Witty and gently tragic, this short yet utterly bewitching novel is an ode to humanity's beauty, selfishness and inextinguishable longing." —Mail on Sunday


Anchor, 9780525431947, 224pp.
Publication Date: May 30, 2017
About the Author
IAN MCEWAN is the critically acclaimed author of seventeen novels and two short story collections. His first published work, a collection of short stories, First Love, Last Rites, won the Somerset Maugham Award. His novels include The Child in Time, which won the 1987 Whitbread Novel of the Year Award; The Cement Garden; Enduring Love; Amsterdam, which won the 1998 Booker Prize; Atonement; Saturday; On Chesil Beach; Solar; Sweet Tooth; The Children Act; Nutshell; and Machines Like Me, which was a number-one bestseller. Atonement, Enduring Love, The Children Act and On Chesil Beach have all been adapted for the big screen.
1. There are many allusions and references in the novel to Shakespeare, Hamlet in particular. Cite them all. Which resonated with you the most?
2. It's not easy to empathize with Trudy. But give it a try. Discuss her character, her dilemma, and the ways in which you identify with her.
3. At one critical point John gives a soliloquy, the story of his love affair and marriage with Trudy. How surprising was that to you? What does it say about romantic love? Did you feel differently about John and Trudy after reading this?
4. Does Claude have any redeeming qualities? If so, what are they?
5. There are numerous mentions of fine wine, music, literature, and current geopolitics that suggest an unexpected worldliness in our narrator. A fetus has no business knowing about such things. How does McEwan pull it off?
6. In what ways is the ending inevitable? Surprising? Satisfying?
7. If Nutshell were made into a film, who would you cast in the roles of John, Trudy, and Claude?
8. In Atonement, we meet one of McEwan's most unreliable narrators, Briony. In Nutshell we meet his most reliable narrator. Or is he? Should we trust him just because he hasn't yet been spoiled by the outside world?
9. What other Ian McEwan novels have you read? Discuss the arc of McEwan's writing career: his themes, his literary tropes, his plots and characters. Where does this novel fit in that arc? And where does it all point?
10. McEwan has said elsewhere that many novels are over-long. In your opinion what are the virtues of the shorter novels that McEwan often delivers? How, in general, do longer novels fall short?
or
Not Currently Available for Direct Purchase