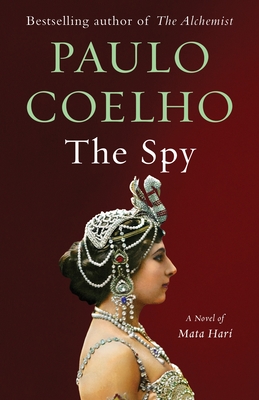 The Spy
A Novel of Mata Hari (Vintage International)
Paperback

* Individual store prices may vary.
Other Editions of This Title:
Digital Audiobook (11/21/2016)
Hardcover (11/22/2016)
Paperback, Large Print (11/22/2016)
CD-Audio (11/22/2016)
Description
In his new novel, Paulo Coelho, bestselling author of The Alchemist and Adultery, brings to life one of history's most enigmatic women: Mata Hari. 

HER ONLY CRIME WAS TO BE AN INDEPENDENT WOMAN
 
When Mata Hari arrived in Paris she was penniless.  Within months she was the most celebrated woman in the city.
 
As a dancer, she shocked and delighted audiences; as a courtesan, she bewitched the era's richest and most powerful men.
 
But as paranoia consumed a country at war, Mata Hari's lifestyle brought her under suspicion. In 1917, she was arrested in her hotel room on the Champs Elysees, and accused of espionage.
 
Told in Mata Hari's voice through her final letter, The Spy is the unforgettable story of a woman who dared to defy convention and who paid the ultimate price.
Praise For The Spy: A Novel of Mata Hari (Vintage International)…
Praise for Paulo Coelho and The Spy
 
"[The Spy is a] masterful new novel." --Bookpage
 
"Coelho, whose books have sold more than 200 million copies worldwide, has taken the Mata Hara story and fashioned it into a short dynamo of a novel." --Los Angeles Times
 
"A striking novel. . . . By the end, readers will believe they've read [Mata Hari's] actual letters." --Publisher's Weekly
 
"Coelho has created a portrait of an anachronistic woman, who was destroyed by her times and became a legend." --Paste Magazine
 
"A novelist who writes in a universal language." --The New York Times
 
"Spiritualists and wanderlusts will eagerly devour . . . [Coelho's] search for all things meaningful." --The Washington Post
Vintage, 9780525432791, 192pp.
Publication Date: June 27, 2017
About the Author
PAULO COELHO's life remains the primary source of inspiration for his books. He has flirted with death, escaped madness, dallied with drugs, withstood torture, experimented with magic and alchemy, studied philosophy and religion, read voraciously, lost and recovered his faith, and experienced the pain and pleasure of love. In searching for his own place in the world, he has discovered answers for the challenges that everyone faces. He believes that, within ourselves, we have the necessary strength to find our own destiny. His most recent novel Adultery was a worldwide bestseller. His 1988 novel The Alchemist has sold more than 65 million copies and has been cited as an inspiration by people as diverse as Malala Yousafzai and Pharrell Williams. Paulo Coelho has sold more than 200 million books worldwide. His work is published in 81 languages, and he is the most translated living author in the world.
1. The narrative structure of The Spy shifts among the perspectives of Mata Hari, her attorney, and factual source documents. What does this assert about subjectivity in recounting historical events? How is the true version of the events leading up to Mata Hari's execution destabilized throughout the reading experience of The Spy? What does the sober presentation of the conclusion of the novel suggest about justice?
2. Discuss the significance of the epigraph that opens The Spy. How does it act as a presage of tone for the novel? How does Coelho's choice to begin the book with an account of Mata Hari's death establish mood and setting?
3. Discuss Mata Hari's childhood. How would you describe her relationship with her parents? Her hometown? How does her mother's advice to "follow your destiny, whatever it may be, with joy" shape her outlook and worldview?
4. Early in the narrative, Mata Hari reflects on her sexual assault at the hands of her school principal. How does this incident influence her attitude toward sex? Toward men in general? How—and when—does she reclaim her sexuality?
5. On page 20, Mata Hari plainly states, "All the men I've known have given me joy, jewelry, or a place in society, and I've never regretted knowing them . . ."  How does this unabashed attitude toward sex, money, and fame grate against expected feminine behavior? How do men in the novel react to this brazen reach for power, success, and material wealth? How does she use men as necessary pawns for fulfilling her dreams?
6. Discuss the evolution of Mata Hari's relationship with her husband. When they first meet, how does she view marriage as an institution? How does she contend with her husband's  abuse? How is their marriage affected by the death of their son?
7. The scene in which Andreas's wife commits suicide is formative for Mata Hari's identity. How does she describe this incident? How did this episode propel her to take agency over her own life?
8. Describe Mata Hari's choice to rename herself. What is the significance of her renaming? How does this assertion of a new identity allow her to explore the unruliest aspects of her personality?
9. Mata Hari was of Dutch descent, but she expresses throughout The Spy that her true home is Paris. Why does she feel a spiritual connection to that city? How do Parisians' attitudes toward her change as she ages? As political tensions mount?
10. How does Mata Hari describe dance? Discuss her first performance of the "traditional" dance of Java. How is cultural appropriation discussed throughout the novel?
11. On page 87, Mata Hari asserts, "For me, love and power were the same thing." When is this conflation demonstrated most vividly during the novel? How do masculine figures in her life contend with her grasp for power? When does Mata Hari's power become most problematic? With whom does she share real affection?
12. How are personal secrets and political treachery interwoven throughout the narrative?  Discuss the paranoia that emerges among male authority figures in the novel as political tensions flare. How does Mata Hari's presence agitate them? How does she treat her responsibilities as H21?
13. How would you describe the working relationship between Mata Hari and her manager, Astruc? Discuss the scene on the beach in which Mata Hari reveals the true facts of her background to him. How does this alter their relationship? Discuss her decision to take the gig in Germany, despite the country's express anti-Semitism. How did you interpret her decision? Was it out of impetuousness or for reasons of financial security?
14. The tension between private and public selves is explored throughout The Spy. How is Mata Hari's view of herself enhanced, sated, or complicated by her public stature? How does her public presentation differ from the reality of her existence toward the end of her life? Discuss how she "constructs" her persona from a young age.
15. While incarcerated, Mata Hari writes, "Though at the moment I am a prisoner, my spirit remains free." (103) How does Mata Hari define freedom? Does the tone of her personal account indicate any sense of guilt or regret at her actions?