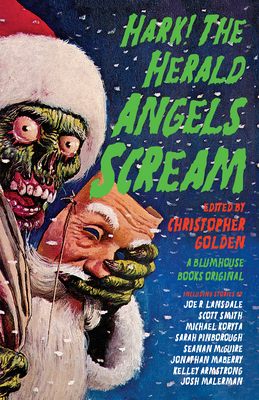 Hark! The Herald Angels Scream (Paperback)
Anchor, 9780525433163, 384pp.
Publication Date: October 23, 2018
* Individual store prices may vary.
Description
Eighteen stories of Christmas horror from bestselling, acclaimed authors including Scott Smith, Seanan McGuire, Josh Malerman, Michael Koryta, Sarah Pinborough, and many more.

That there is darkness at the heart of the Yuletide season should not surprise. Charles Dickens' A Christmas Carol is filled with scenes that are unsettling. Marley untying the bandage that holds his jaws together. The hideous children--Want and Ignorance--beneath the robe of the Ghost of Christmas Yet to Come. The heavy ledgers Marley drags by his chains. In the finest versions of this story, the best parts are the terrifying parts.
Bestselling author and editor Christopher Golden shares his love for Christmas horror stories with this anthology of all-new short fiction from some of the most talented and original writers of horror today.
About the Author
Christopher Golden is the award-winning New York Times bestselling author of, among other books, Snowblind, The Myth Hunters, Wildwood Road, The Boys Are Back in Town, and Of Saints and Shadows. His first novel with Mike Mignola, Baltimore, or, The Steadfast Tin Soldier and the Vampire, was the launch pad for the cult favorite comic book series Baltimore. He has also edited short-story anthologies and written comic books, video games, screenplays, online animated series, and a network television pilot. Golden was born and raised in Massachusetts, where he lives with his family.
Praise For Hark! The Herald Angels Scream…
"Beneath the tree, the presents lie — a knife that vanishes, a crèche that lives, a house in London luring lonely tourists — each one wrapped with care, each one dripping venom. Every tale is unexpected and unsettling, leaving you enveloped in a shroud of Christmas dread." --Grady Hendrix, Paperbacks from Hell

"Hark! The Herald Angels Scream is made of horror stories set at Christmas. The best of them have a wide range of tones: Joe R. Lansdale's elegiac "The Second Floor of the Christmas Hotel" concerns aging and a long-unsolved mystery; Josh Malerman's "Tenets" finds a disgraced cult leader awkwardly attending a holiday gathering; and Sarah Pinborough's "The Hangman's Bride" delves into history for a tale of a grieving husband, an orphaned child forced into a life of crime and a restless spirit roaming around a desolate home." -- Polygon

"I would definitely recommend this if you're looking for a creepy, chilly read for the holidays." -- Sci Fi and Scary (.com)

"Hark! is a fun book filled with lots of interesting ideas and weird tales." -- Dread Central (.com)

"I guarantee this particular Christmas stocking has some real gems lurking amongst the holly and mistletoe....Hark! The Herald Angels Scream is full of delicious and off-colour presents which are well worth unwrapping, or gifting to a horror loving friend." -- Ginger Nuts of Horror (.com)

Hark! The Herald Angels Scream is a horror anthology perfectly curated by Golden to rip the wholesome holiday open and spill its blood on the freshly fallen snow." -- iHorror (.com)

"The best part of the Halloween to Christmas time is that we get to take this time of ghoulishness to jolly celebration and make them all into something sinister if we want....Ultimately I will say that this was one of my favorite short story collections to read." -- Where the Reader Grows (.com)
or
Not Currently Available for Direct Purchase