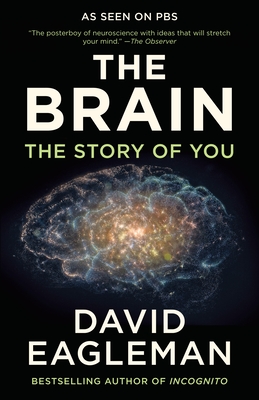 The Brain
The Story of You
Paperback

* Individual store prices may vary.
Other Editions of This Title:
Digital Audiobook (10/5/2015)
Hardcover (10/6/2015)
Description
Locked in the silence and darkness of your skull, your brain fashions the rich narratives of your reality and your identity. Join renowned neuroscientist David Eagleman for a journey into the questions at the mysterious heart of our existence. What is reality? Who are "you"? How do you make decisions? Why does your brain need other people? How is technology poised to change what it means to be human?  In the course of his investigations, Eagleman guides us through the world of extreme sports, criminal justice, facial expressions, genocide, brain surgery, gut feelings, robotics, and the search for immortality.  Strap in for a whistle-stop tour into the inner cosmos. In the infinitely dense tangle of billions of brain cells and their trillions of connections, something emerges that you might not have expected to see in there: you. 
 
This is the story of how your life shapes your brain, and how your brain shapes your life. 

 
(A companion to the six-part PBS series. Color illustrations throughout.)
Praise For The Brain: The Story of You…
Nature
"An ideal introduction to how biology generates the mind.... structured around crucial and wide-ranging questions, saturated with per- sonal and social relevance. And Eagleman's answers are consistently clear, engaging and thought-provoking."

Brian Eno
"David Eagleman's wide-ranging roundup of the current state of knowledge about the brain is concise, accessible and often very surprising. It's a strange new world inside your head."

Stephen Fry
"David Eagleman's The Brain its an astonishing read. On every page there is a revelation so fantastic as to make one gasp. It would be impossible to take in if we didn't all possess that impossibly extraordinary thing, a brain. Eagleman comes closer than anyone to solving the mystery of how to find the self inside the grey electric mush between our ears."

Ruby Wax
"David Eagleman makes it easy to comprehend the most complex collection of cells in the Cosmos  - our brain.   If neuroscience had a rock legend this would be him."
Vintage, 9780525433446, 256pp.
Publication Date: March 7, 2017
About the Author
David Eagleman is a neuroscientist at Stanford University. His scientific research is published in journals from Science to Nature, and he is also the author of the internationally bestselling books Sum and Incognito. He is the writer and presenter of the companion BBC television series The Brain.
 
www.eagleman.com