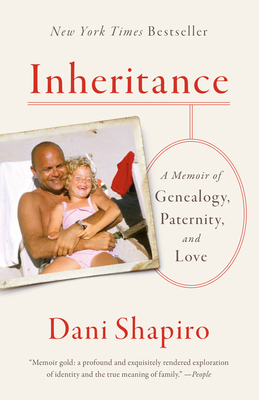 Inheritance
A Memoir of Genealogy, Paternity, and Love
Paperback

* Individual store prices may vary.
Other Editions of This Title:
Digital Audiobook (1/14/2019)
Hardcover (1/15/2019)
Library Binding, Large Print (3/20/2019)
January 2019 Indie Next List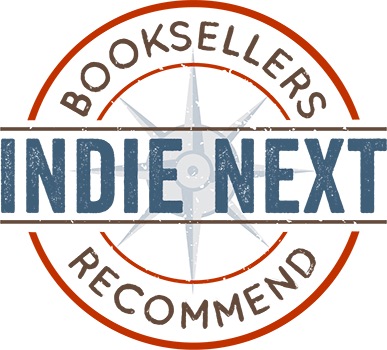 "Who are we? Does who we think we are change when we learn a family secret that alters the source of our identity? Shapiro has explored issues of identity in her previous memoirs, but in her latest she applies her signature candor and heart to a riveting, provocative, and inspiring genealogical mystery and journey of discovery."
— Roxanne Coady, R.J. Julia Booksellers, Madison, CT
View the List
Description
An Instant NEW YORK TIMES BESTSELLER

A LOS ANGELES TIMES, BOSTON GLOBE, WALL STREET JOURNAL, and NATIONAL INDIE BESTSELLER

Named A BEST BOOK OF THE YEAR by *Elle * Vanity Fair * Wired * Real Simple * Kirkus Reviews * BookPage *

"Memoir gold: a profound and exquisitely rendered exploration of identity and the true meaning of family." —People Magazine

"Beautifully written and deeply moving—it brought me to tears more than once."—Ruth Franklin, The New York Times Book Review

From the acclaimed, best-selling memoirist, novelist and host of the hit podcast Family Secrets, comes a memoir about the staggering family secret uncovered by a genealogy test: an exploration of the urgent ethical questions surrounding fertility treatments and DNA testing, and a profound inquiry of paternity, identity, and love.

In the spring of 2016, through a genealogy website to which she had casually submitted her DNA for analysis, Dani Shapiro received the stunning news that her beloved deceased father was not her biological father. Over the course of a single day, her entire history—the life she had lived—crumbled beneath her.
     Inheritance is a book about secrets. It is the story of a woman's urgent quest to unlock the story of her own identity, a story that had been scrupulously hidden from her for more than fifty years. It is a book about the extraordinary moment we live in, a moment in which science and technology have outpaced not only medical ethics but also the capacities of the human heart to contend with the consequences of what we discover.
     Dani Shapiro's memoir unfolds at a breakneck pace—part mystery, part real-time investigation, part rumination on the ineffable combination of memory, history, biology, and experience that makes us who we are. Inheritance is a devastating and haunting interrogation of the meaning of kinship and identity, written with stunning intensity and precision.
Praise For Inheritance: A Memoir of Genealogy, Paternity, and Love…
New York Times Editors' Choice
A Vanity Fair, New Yorker, Washington Post, Vulture, Bustle, Real Simple, PopSugar, and LitHub Most Anticipated Book of 2019 

"[An] engrossing, compassionate memoir.... As in the best writing on the self, the point is the integrity of her search." —Alexandra Schwartz, The New Yorker
 
"The writing is that of a true storyteller who will not stop until she has bored down to the bottom of where she came from, and in this she is at her narrative best." —Oprah Magazine
 
"As compulsively readable as a mystery novel, while exploring the deeper mysteries of identity and family and truth itself... a story told with great insight and honesty and heart." —San Francisco Chronicle

"A meditation on what it means to live in a time when secrecy, anonymity, and mystery are vanishing." —The New Yorker
 
"Shapiro is skilled at spinning her personal explorations into narrative gold." —NPR
 
"[A] swift moving narrative of profound personal disorientation. Just as you think you've crested the big reveal, Shapiro builds more tension, chapter by short chapter; she keeps you close as she feels her way through unfamiliar terrain." —Newsday
 
"Inheritance zooms in on the blind spots that result when reproductive technology outpaces an understanding of its consequences. In viewing this important and timely topic through a highly personal lens, Inheritance succeeds admirably." —The Seattle Times
 
"Inheritance offers a thought-provoking look at the shifting landscape of identity." —The Washington Post
 
"[Shapiro] has an intimate, ruminating style, leaping associatively through time, addressing the reader not as an audience, or voyeur, but more as an interlocutor, thoughtfully answering the questions she thinks someone might ask, if they lived in her head." —Bookforum
 
"Inheritance is dedicated "to my father". That [Shapiro] doesn't say which one speaks volumes: those who like to insist that blood is always thicker than water should read her book, and let their own hearts slowly and gently expand." —The Guardian
 
"Shapiro [writes]... this spare, lyrical story shattering the polished portrait of her life and piecing the fragments carefully, gorgeously back together." —Vulture
 
"Inheritance explores Shapiro's identity in relationship to her memory, family history, biology, and experience. And it essentially asks the question: What makes us who we are? It's brilliant." —Goop
 
"Smart, psychologically astute, and not afraid to tell it like it is." —USA Today
 
"A poignant examination of identity and what happens when one's wholeness and understanding of who they are is completely uprooted." —Marie Claire
 
"It's a cautionary tale about a brave new world of technology that erases privacy, and a story about one of the oldest themes of human narrative: finding oneself." —Miami Herald
 
"Written with generosity and honesty, Inheritance takes the modern phenomenon of casual DNA testing and builds a deeply personal narrative around it. The result is a vital, necessary read from a talented author." —Paste Magazine
 
"A remarkable, dogged, emotional journey... Inheritance reads like a mystery, unfolding minute by minute and day by day.... Shapiro's book is a wise and thorough examination of how this news affected her. She is a good guide for the bombshells that are yet to explode for so many families." —Minneapolis Star Tribune

"Shapiro [writes] this spare, lyrical story shattering the polished portrait of her life and piecing the fragments carefully, gorgeously back together." —Bitch Magazine
 
"A fascinating, pertinent look into the murky world of medical ethics, as well as the kind of profound, insightful look into the meaning of love and connection that we've come to expect from Shapiro." —Nylon
 
"A remarkable, dogged, emotional journey as Shapiro digs into the past to find the truth." —Boston Herald
 
"Inheritance reads like an introspective mystery as Shapiro sorts facts from fiction." —Elle
 
"In Inheritance, Shapiro movingly reckons with identity and family secrets." —Real Simple
 
"Inheritance adds significantly to Shapiro's body of work while plugging into some of our culture's most pressing concerns—identity, technology and medical ethics, among others. Although her story is unique to her, it offers a way of thinking about our changing, uncertain times." —The Florida Times Union
 
"Inheritance is both thrilling and fascinating—a nonfiction book that reads like a novel." —Pop Sugar
 
"Shapiro unpacks a beautiful and heartbreaking narrative of paternity, genetics, and family." —Lit Hub

"Fascinating... With thoughtful candor, [Shapiro] explores the ethical questions surrounding sperm donation, the consequences of DNA testing, and the emotional impact of having an uprooted religious and ethnic identity. This beautifully written, thought-provoking genealogical mystery will captivate readers from the very first pages." —Publishers Weekly (starred review)

"For all the trauma that the discovery put her through, Shapiro recognizes that what she had experienced was 'a great story'—one that has inspired her best book." —Kirkus Reviews (starred review)

"Page after page, Shapiro displays adisarming honesty and an acute desire to know the unknowable." —Booklist (starred review)
 
"As Shapiro deftly navigates the emotional story of her own origins, she also spins her grief, shock, and introspection into a compelling narrative that you won't be able to put down." —Book Riot"[Shapiro's] magnificent journey of selfhood, arduous and awakening, makes our communal reflection in the mirror deeper and continually delving." —Jamie Lee Curtis
 
"Inheritance is Dani Shapiro at her best: a gripping genetic detective story, and a meditation on the meaning of parenthood and family." —Jennifer Egan
 
"Reads like a beautiful, lived novel, moving and personal and true." —Meg Wolitzer
 
"A compulsively-readable investigation into selfhood that burrows to the heart of what it means to accept, to love, and to belong." —Anthony Doerr
 
"In her searing story, Dani Shapiro makes the most disquieting discovery: that everything, from her lineage, to her father, down to her very own sense of self is an astounding error.... The answer is not disquieting. It is beautiful." —Andre Aciman
 
"An extraordinary memoir that speaks to themes as current as today's headlines and as old as human history.... This beautifully crafted book is full of wisdom and heart, showing that what we don't know about our parents may not be as important as what we do." —Will Schwalbe
Anchor, 9780525434030, 272pp.
Publication Date: January 28, 2020
About the Author
DANI SHAPIRO is the author of the New York Times bestselling memoir Inheritance, as well as Hourglass, Still Writing, Devotion, and Slow Motion and five novels including Black & White and Family History. Also an essayist and a journalist, Shapiro's short fiction, essays, and journalistic pieces have appeared in The New Yorker, Granta, Tin House, One Story, Elle, Vogue, O, The Oprah Magazine, The New York Times Book Review, the op-ed pages of the New York Times, and many other publications. She has taught in the writing programs at Columbia, NYU, the New School, and Wesleyan University; she is cofounder of the Sirenland Writers Conference in Positano, Italy. Shapiro is the host of the hit podcast, Family Secrets. She lives with her family in Litchfield County, Connecticut.