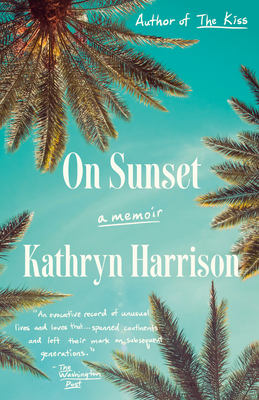 On Sunset (Paperback)
Anchor, 9780525434085, 288pp.
Publication Date: September 3, 2019
Other Editions of This Title:
Digital Audiobook (10/1/2018)
Hardcover (10/2/2018)
* Individual store prices may vary.
Description
Born in Los Angeles at the dawn of the 1960s to parents who quickly departed, Kathryn Harrison was received by her maternal grandparents as a late-life child. Harry Jacobs and Margaret Sassoon, true wandering Jews, had emigrated to L.A. after leading whirlwind lives in Shanghai, London, Alaska, Russia, and beyond. Harrison grew up in their fading Tudor mansion on Sunset Boulevard, a kingdom inhabited by gleaming memories from their extraordinary past. Their photos, letters, and souvenirs sparked endless family stories that spanned cultures, dynasties, and continents—until declining finances forced them to sell the house in 1971, and night fell fast. Vivid and poignant, filled with the wisdom of retrospect and the wonder of childhood, On Sunset seeks to recover a foundational time in her life, affirming the power of storytelling and the endurance of memory.
About the Author
Kathryn Harrison has written the novels Thicker Than Water, Exposure, Poison, The Binding Chair, The Seal Wife, Envy, and Enchantments. Her autobiographical work includes The Kiss, Seeking Rapture, The Road to Santiago, The Mother Knot, and True Crimes. She has written two biographies, Saint Thérèse of Lisieux and Joan of Arc, and a book of true crime, While They Slept. She lives in Brooklyn with her husband, the novelist Colin Harrison.
Praise For On Sunset…
"Touching and at times jaw-dropping. . . . An evocative record of unusual lives and loves [that] spanned continents and left their mark on subsequent generations." —The Washington Post

"Beautifully rendered. . . . All memoirs are, by definition, collections of the past, but few interrogate it quite like Kathryn Harrison's On Sunset." —Los Angeles Times

"On Sunset is Harrison's gentlest inquiry into the particular foreign country that is her past. . . . The glittering riches of Harrison's childhood [are] her most precious inheritance." —The New York Times Book Review
 
"Stunning. . . . This is Kathryn Harrison in top form." —Augusten Burroughs, author of Running with Scissors 

"Astonishing. . . . Gorgeous. . . . Wise and all-seeing. . . . Full of whimsy and hope and awe. . . . Harrison braids her material: the story of her childhood, the story of her grandparents' lives. . . . it's not just memoir, not just family history, not just a meditation on culture and class, but a mystery, too." —Los Angeles Review of Books

"Harrison's story is ordinary and extraordinary. . . . The delight of this book lies in her relationship with these grandparents—marvels of experience, patience and knowledge whose stories set her off to become a writer." —The National Book Review

"Fairy-tale fascinating, profoundly revealing of cultural divisions, and brilliantly and wittily told. . . . Harrison's entrancing look-back casts light on resonant swaths of history as she reenters the frozen bubble in time she occupied as a lonely child." —Booklist

"Evocative and tender, this delightful memoir pairs the distant past with a safe and sacred time in the author's young life." —Publishers Weekly

"A poignant and eloquent memoir. . . . Blending family history and mythology, anecdotes and photographs, this book is not simply one woman's open love letter to two magnificently eccentric grandparents; it is also a testament to the enduring power of memory." —Kirkus Reviews