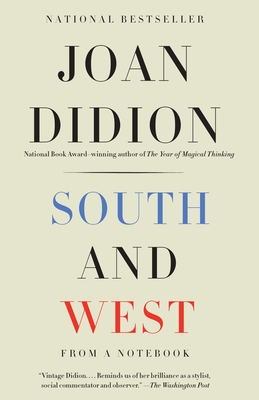 South and West
From a Notebook (Vintage International)
Paperback

* Individual store prices may vary.
Other Editions of This Title:
Digital Audiobook (3/6/2017)
Hardcover (3/7/2017)
Description
NATIONAL BESTSELLER • "One of contemporary literature's most revered essayists revives her raw records from a 1970s road trip across the American southwest ... her acute observations of the country's culture and history feel particularly resonant today." —Harper's Bazaar 

Joan Didion, the bestselling, award-winning author of The Year of Magical Thinking and Let Me Tell You What I Mean, has always kept notebooks—of overheard dialogue, interviews, drafts of essays, copies of articles. Here are two extended excerpts from notebooks she kept in the 1970s; read together, they form a piercing view of the American political and cultural landscape.

"Notes on the South" traces a road trip that she and her husband, John Gregory Dunne, took through Louisiana, Mississippi, and Alabama. Her acute observations about the small towns they pass through, her interviews with local figures, and their preoccupation with race, class, and heritage suggest a South largely unchanged today.

"California Notes" began as an assignment from Rolling Stone on the Patty Hearst trial. Though Didion never wrote the piece, the time she spent watching the trial in San Francisco triggered thoughts about the West and her own upbringing in Sacramento. Here we not only see Didion's signature irony and imagination in play, we're also granted an illuminating glimpse into her mind and process.


Praise For South and West: From a Notebook (Vintage International)…
One of the Best Books of the Year: NPR, Harper's Bazaar

"Vintage Didion. . . . Remind[s] us of her brilliance as a stylist, social commentator and observer." —The Washington Post

"Elegant, eerily prescient. . . .  At once informal and immediate, magisterial and indelible." —Elle

"Fascinating. . . . Shine[s] with her trademark ability to capture mood and place." —The New York Times

"In these two pieces, Didion isn't so much seeing the country as she is x-raying it, cataloging the presenting symptoms of the ailing republic. . . . [This] volume will persist in the memory." —The Village Voice

"Reveals the author at her most fascinatingly unfiltered. . . . Captures the thrill of a writer discovering her richest subject: the American mythologies that governed her own romantic girlhood." —Vogue

"Intimate, yet preternaturally detached, as though her matchless ear bears witness from the beyond." —The Boston Globe

"Exemplif[ies] Didion's signature brand of reportorial haiku—her pitiless camera eye, razor-sharp wit and telling techniques of self-deprecation that only bring the reader . . . further along for the ride." —San Francisco Chronicle

"Deeply personal. . . . Offer[s] new insight into a formative time in the author's life." —Rolling Stone

"One of contemporary literature's most revered essayists revives her raw records from a 1970s road trip across the American southwest . . . her acute observations of the country's culture and history feel particularly resonant today." —Harper's Bazaar

"Vintage Didion, idiosyncratic and tantalizingly self-revealing." —USA Today

"This is the charm of South and West: while its political observations are both prescient and canny, the greater pleasure is the view into her mind at work. For a writer who has never shied away from exploring the personal in her writing, Didion's notebooks might be her most vulnerable work yet." —Bomb

"Compelling . . . rooted utterly in a past now all but lost to us, while also incredibly timely and relevant." —Los Angeles Review of Books

"If this is how Didion's notebooks read, let's have them all. . . . The form suits her particular brilliance: the ability to sequence arresting sentences, crammed with observation and insight, and let them generate their own momentum." —Minneapolis Star Tribune

"A marvelous time capsule. . . . Fascinating documents spiked with virtuosic turns. . . . Cast[s] light backward and forward on her work, illuminating her reportorial process and the themes she would develop in later novels and nonfiction." —Vulture

"[Didion's] idiosyncratic genius is in full evidence in South and West. . . . Didion seemed to be aware that she was recording a singular moment in the culture. . . . She did not want to transcend the madness of the day, escape it, but rather to capture it completely." —Newsweek

"Engaging and haunting. . . . Didion's observations of the South are remarkable to read, dripping with a sense of unease. . . .  Didion at her most unfiltered. Those who admire her will find this glimpse into her notebooks exhilarating." —Paste

"An amazing snapshot of Didion at work, her interviews with regular folks, her descriptions of motels and highways in one section and of what California means to her in another." —Austin American-Statesman
Vintage, 9780525434191, 160pp.
Publication Date: January 2, 2018
About the Author
JOAN DIDION was born in Sacramento in 1934 and graduated from the University of California, Berkeley, in 1956. After graduation, Didion moved to New York and began working for Vogue, which led to her career as a journalist and writer. Didion published her first novel, Run River, in 1963. Didion's other novels include A Book of Common Prayer (1977), Democracy (1984), and The Last Thing He Wanted (1996).
 
Didion's first volume of essays, Slouching Towards Bethlehem, was published in 1968, and her second, The White Album, was published in 1979. Her nonfiction works include Salvador (1983), Miami (1987), After Henry (1992), Political Fictions (2001), Where I Was From (2003), We Tell Ourselves Stories in Order to Live (2006), Blue Nights (2011), South and West (2017) and Let Me Tell You What I Mean (2021). Her memoir The Year of Magical Thinking won the National Book Award for Nonfiction in 2005.
 
In 2005, Didion was awarded the American Academy of Arts & Letters Gold Medal in Criticism and Belles Letters. In 2007, she was awarded the National Book Foundation's Medal for Distinguished Contribution to American Letters. A portion of National Book Foundation citation read: "An incisive observer of American politics and culture for more than forty-five years, Didion's distinctive blend of spare, elegant prose and fierce intelligence has earned her books a place in the canon of American literature as well as the admiration of generations of writers and journalists." In 2013, she was awarded a National Medal of Arts and Humanities by President Barack Obama, and the PEN Center USA's Lifetime Achievement Award.

Didion said of her writing: "I write entirely to find out what I'm thinking, what I'm looking at, what I see and what it means." She died in December 2021.