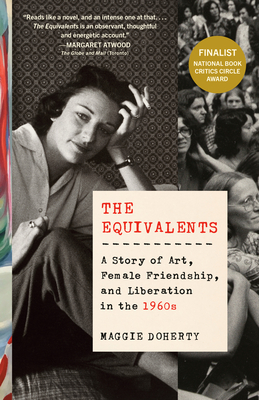 The Equivalents
A Story of Art, Female Friendship, and Liberation in the 1960s
Paperback

* Individual store prices may vary.
Other Editions of This Title:
Digital Audiobook (5/18/2020)
Hardcover (5/19/2020)
Description
FINALIST FOR THE NATIONAL BOOK CRITICS CIRCLE AWARD

In 1960, Harvard's sister college, Radcliffe, announced the founding of an Institute for Independent Study, a "messy experiment" in women's education that offered paid fellowships to those with a PhD or "the equivalent" in artistic achievement. Five of the women who received fellowships—poets Anne Sexton and Maxine Kumin, painter Barbara Swan, sculptor Marianna Pineda, and writer Tillie Olsen—quickly formed deep bonds with one another that would inspire and sustain their most ambitious work. They called themselves "the Equivalents." Drawing from notebooks, letters, recordings, journals, poetry, and prose, Maggie Doherty weaves a moving narrative of friendship and ambition, art and activism, love and heartbreak, and shows how the institute spoke to the condition of women on the cusp of liberation.

"Rich and powerful. . . . A love story about art and female friendship."
—Harper's Magazine

"Reads like a novel, and an intense one at that. . . . The Equivalents is an observant, thoughtful and energetic account."
—Margaret Atwood, The Globe and Mail (Toronto)
Praise For The Equivalents: A Story of Art, Female Friendship, and Liberation in the 1960s…
"The Equivalents is written with panache. [Maggie Doherty] adroitly weaves vivid, empathetic portraits of these talented women, focusing on their artistic accomplishments, their impact on the women's movement and its impact on them."
—The Wall Street Journal
 
"This deft history charts the relationships among five of the earliest fellows. . . . Doherty relates their often fraught intimacies in detail, emphasizing how these dynamics prefigured currents in American feminism and culture. The women's shared story shows both the potential and the limitations of a "room of one's own" as a liberating force." 
—The New Yorker
 
"Brilliant. . . . Doherty's rigorous history is an empowering reminder that to change ourselves, we must have systemic support outside ourselves—institutional structures that reinforce the belief that all people are created equal, not just equivalent." 
—Los Angeles Times
 
"[The Equivalents] prompts us to consider the systems of marginalization that continue to reproduce the psychic division that agonized these women. . . . It is the story of what these women needed from and gave to one another." 
—The Nation
 
"The Equivalents is an important, illuminating work. Fortunately, it is also a splendidly written page-turner to read for joy." 
—Minneapolis Star Tribune
 
"Elegantly composed. . . . The Equivalents also serves as something of a prehistory of second-wave feminism."
—The Boston Globe
  
"Opposites attract in Doherty's exuberant account of women artists in the 1960s and '70s that especially probes the fierce connection between poets Anne Sexton and Maxine Kumin, a 'dance of sameness and separateness . . . something like a song." 
—O, The Oprah Magazine
 
"Mona Lisa Smile meets Mrs. America. [The Equivalents] tells of the founding students in Radcliffe's Independent Study program, which helped women to receive an education and raise a family." 
—Entertainment Weekly
 
"[Maggie Doherty] presents the institute as a crucial bridge between first- and second-wave feminism—between, roughly, Virginia Woolf and Betty Friedan. Through examining the five 'Equivalents,' she illustrates the institute's role in midcentury feminism and explores the ways in which both fell short. . . . A vivid, captivating, and excellently argued work." 
—Hyperallergic
 
"Rich with insight into the challenges faced by midcentury women as they struggled to pursue their work. . . .  Doherty sheds light on an important story, one that takes place at the fraught intersection of gender, race and class." 
—WBUR, "The ARTery"
 
"[An] exciting debut. . . .  A rich tapestry brought to life by Doherty's access to [her subjects'] personal notes, recordings, letters and works, weaving her own strong voice in with the individual women to tell stories of art, radical politics, relationships, and unfettered ambition. Though her eye is on the past, it's most certainly a story to inspire our futures." 
—Dazed
 
"This phenomenal book captures the tensions, ambitions, activism, friendship and yearning for community found in this incredible place and time." 
—Observer
 
"[The Equivalents], and the hundreds of women who followed them over the decades, have in Maggie Doherty a dedicated biographer. The Equivalents is a story long overdue. In this age of #MeToo and a president who brags about groping women, it's important to look at the moment when modern, talented women saw in Radcliffe an open door, and walked right in." 
—Air Mail
    
"A story of neither collective liberation nor midcentury repression. . . . Doherty is a confident, perceptive critic, and her biographical sketches are expertly interwoven with well-deployed . . . readings of the poems themselves." 
—Bookforum
 
"An exciting, engaging, and important book. With great psychological acumen, Maggie Doherty brings these women vividly to life. Being creative while female has never been easy, and our best hope for resolution is this variety of historical excavation, one that shows us how people have tried to resolve it before, so we may learn and keep pushing forward, newly enlightened."
—Kate Bolick, author of Spinster
 
"Maggie Doherty's revelatory history of female artists and their influential friendships stands as triumphant testament to the powerhouse first known as Radcliffe's Institute for Advanced Study. The Equivalents reminds us that generative 'women's work' can literally light up the darkness that discourages women's voices – just when we need them the most."
—Jayne Anne Phillips, Bunting Institute Fellow, 1980-81, author of Black Tickets and Lark and Termite
 
"In her thrilling book, Maggie Doherty brings to vivid life the history long hidden of a glorious American experiment that gathered creative women for a year of community in the shelter of a great university. The emotional power The Equivalents lies in its revelation of the incremental impact of community on each of these formerly isolated women, prophetic of what would happen two years later with the publication of The Feminine Mystique and the arrival of Second Wave feminism."
—Honor Moore, author of Our Revolution
 
"An elegant, novelistic history. . . . Doherty's prose dazzles, and she skillfully integrates her copious research into the narrative while toggling between biographical, creative, and political matters." 
—Publishers Weekly (starred review)
 
"[A] galvanizing look at a little-explored conjunction of critical feminist voices." —Library Journal
 
"Doherty's vibrant curiosity and many-faceted expertise infuse this dynamic group biography with light and warmth." 
—Booklist (starred review)
 
"Superb. . . . A welcome spotlight on an overdue 'experiment.'"
—Kirkus Reviews
Vintage, 9780525434603, 400pp.
Publication Date: April 13, 2021
About the Author
Maggie Doherty teaches writing at Harvard, where she earned her PhD in English. Her writing has appeared in The New Yorker, the New York Times, the New York Review of Books, and the Nation, among other publications. She lives in Cambridge.