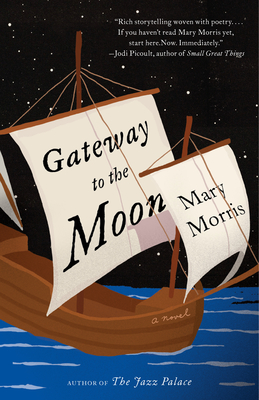 Gateway to the Moon
A Novel
Paperback

* Individual store prices may vary.
Other Editions of This Title:
Hardcover (4/10/2018)
Description
In 1492, two history-altering events occurred: the Jews and Muslims of Spain were expelled, and Columbus set sail for the New World. Many Spanish Jews chose not to flee and instead became Christian in name only, maintaining their religious traditions in secret. Among them was Luis de Torres, who accompanied Columbus as an interpreter. Over the centuries, de Torres' descendants traveled across North America, finally settling in the hills of New Mexico. Now, some five hundred years later, it is in these same hills that Miguel Torres, a young amateur astronomer, finds himself trying to understand the mystery that surrounds him and the town he grew up in: Entrada de la Luna, or Gateway to the Moon.

Poor health and poverty are the norm in Entrada, and luck is rare. So when Miguel sees an ad for a babysitting job in Santa Fe, he jumps at the opportunity. The family for whom he works, the Rothsteins, are Jewish, and Miguel is surprised to find many of their customs similar to those his own family kept but never understood. Braided throughout the present-day narrative are the powerful stories of the ancestors of Entrada's residents, portraying both the horrors of the Inquisition and the resilience of families. Moving and unforgettable, Gateway to the Moon beautifully weaves the journeys of the converso Jews into the larger American story.
Praise For Gateway to the Moon: A Novel…
"Rich storytelling woven with poetry. . . . If you haven't read Mary Morris yet, start here. Now. Immediately." —Jodi Picoult, author of Small Great Things

"Explores identity, faith, and family in a tale that spans more than five hundred years." —The Christian Science Monitor

"A sweeping generational tale that stretches from the Spanish Inquisition to modern-day New Mexico." —New York Post

"Morris weaves a clear and interesting tapestry, giving the reader an indelible impression of what life was like at the time of the Spanish Inquisition, as well as a variety of interesting character portraits. . . . A perfect vehicle for book club discussions." —Jewish Book Counci
l
"An intriguing, carefully crafted tapestry. . . . Family secrets, mysteries and love are at the heart of this story of survival against all odds." —BBC.com

"This is a work so luminous, so important, that you could see it as a map of the way to live in our universe. . . . A dazzling masterpiece destined to be a classic." —Caroline Leavitt, author of Is This Tomorrow

"Engrossing, richly textured, and spanning centuries with deftness and ease, Gateway to the Moon is Mary Morris's most ambitious and best novel yet." —Dani Shapiro, author of Hourglass

"It's a great joy when a novel so rich in history is also a total page-turner. . . . A wonderful book, remarkable in its knowledge and a terrific story." —Joan Silber, author of Improvement and Fools

"This exquisitely written novel suggests both the vastness and the intimacy of time—the ways in which the lives of the past echo in the lives of the living, whether we know it or not. A richly rewarding reading experience." —Dan Chaon, author of Ill Will

"[An] enthralling saga. . . . Magnificent characters with complex psychologies, including adventurous entrepreneurs and several courageous women, populate this generational tale of the Sephardic diaspora. . . . With prose as clear as the star-strewn sky, Morris's novel explores people's hidden connections." —Booklist (starred review)

"Achieves affecting, poetic notes, its vignettes illuminating one thread of the Jewish Diaspora. . . . Deploys a rich palette of detail and color." —Kirkus Reviews

"[A] spirited story of hidden faith. . . . Morris's richly detailed story explores the unlikely ways tradition can live on in the face of attempted annihilation." —Publishers Weekly

"The story of the Torres family and its successful maintenances of ancient traditions . . . will have readers cheering." —Library Journal 
Anchor, 9780525434993, 352pp.
Publication Date: March 12, 2019
About the Author
Mary Morris is the author of numerous works of fiction, including the novels The Jazz Palace, A Mother's Love, and House Arrest, and of nonfiction, including the travel memoir classic Nothing to Declare: Memoirs of a Woman Traveling Alone. She is a recipient of the Rome Prize in literature and the 2016 Anisfield-Wolf Award for fiction. Morris lives in Brooklyn, New York.