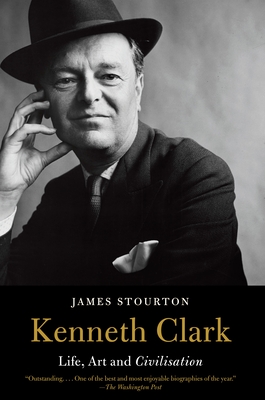 Kenneth Clark (Paperback)
Life, Art and Civilisation
Vintage, 9780525435358, 512pp.
Publication Date: November 14, 2017
Other Editions of This Title:
Hardcover (11/1/2016)
* Individual store prices may vary.
Description
Throughout his brilliant, multifaceted career as a scholar and patron of the arts, Kenneth Clark, later Lord Clark of Saltwood worked tirelessly to bring art to the people. Born in 1903 to a wealthy family and educated at Oxford, Clark became the youngest-ever director of the National Gallery at age twenty-nine. In 1939, as war with Hitler loomed, he arranged for the Gallery's paintings to be hidden in slate mines in Wales to keep them safe. When the air raids began, he held concerts at the Gallery to keep up the spirits of Londoners. Later, at the height of the Cold War, his program Civilisation brilliantly conveyed a message of humanism and hope—wrapped inside a thirteen-part history lesson on Western art—to a remarkably wide audience.

A man of contradictions, he was an elitist who believed to his core that access to art was "the right of every man." With Kenneth Clark, James Stourton gives us the definitive biography of an unlikely popularizer—and renews Clark's vision of art as a powerful force against the threat of chaos.
About the Author
James Stourton, the former chairman of Sotheby's U.K., is the author of many books, including Great Houses of London, Great Collectors of Our Time, and British Embassies: Their Diplomatic and Architectural History. A lecturer on history, he is also a senior fellow of the Institute of Historical Research at the University of London.
Praise For Kenneth Clark: Life, Art and Civilisation…
"Outstanding. . . . Superb. . . . One of the best and most enjoyable biographies of the year." —The Washington Post

"Moving. . . . Authoritative. . . . Tells Clark's story with dispassionate grace and wit." —The New York Times

"Mr. Stourton is a very companionable biographer, learned, eloquent, sympathetic to his subject." —The Wall Street Journal
 
"Superb. . . . Present[s] a compelling picture of a great man." —The New Criterion

"A carefully researched and thoughtful biography of a conflicted and curiously knowable man who became the most brilliant cultural populist of the twentieth century." —The Economist

"Superb. . . Stourton, a former chariman of Sotheby's, is the ideal choice for Clark's official biographer and has produced an accomplished book that is scholarly, entertaining, beautifully written and sympathetic, while far from uncritical." —The Times (London)

"[A] magisterial, definitive work, which draws on a treasure trove of archival material and interviews." —The Washington Times

"Richly detailed, colourful and astute . . . a resplendent biography." —The Sunday Times (London)

"Engrossing . . . achieves a perfect balance between Clark's complex private world and his hugely successful career." —Amanda Foreman, author of A World on Fire: Britain's Crucial Role in the American Civil War

"James Stourton's masterly biography, based on full access to the exceptionally rich Clark archive, is learned, perceptive, vivid and wise, and is a major contribution to the cultural history of the twentieth century." —David Cannadine, author of The Undivided Past: Humanity Beyond Our Differences

"I can think of no one better qualified to write the life of Britain's greatest, most wide-ranging art historian and pioneering TV pundit. . . . This is the single volume that most comprehensively covers the complex character and career of this extraordinary man." —Edward Chaney, author of Genius Friend: G. B. Edwards and the Book of Ebenezer Le Page

"Outstanding. . . . Stourton proves to be a highly capable guide to this significant 20th-century life. A sparkling, thoroughly entertaining portrait of a brilliant popularizer who brought art to the masses." —Kirkus Reviews (starred)

"Captivating . . . Comprehensive. . . . Art enthusiasts and Anglophiles will enjoy the story of a remarkable individual and an illumination of the art world in Britain during the last century." —Booklist

"Traces the extraordinary trajectory of the life of Kenneth Clark. . . . Suppl[ies] humanity to a life that outwardly radiated with a Midas touch." —Publishers Weekly