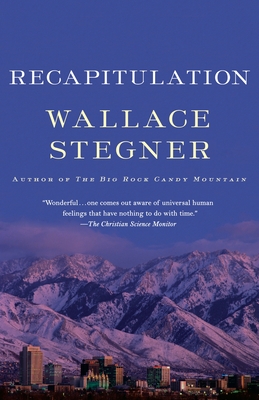 Recapitulation
A Novel
Paperback

* Individual store prices may vary.
Other Editions of This Title:
Paperback (11/1/1997)
Compact Disc (9/1/2017)
Description
A classic novel from Wallace Stegner, and the "dean of Western writers" (The New York Times) and the Pulitzer Prize-winning author of Angle of Repose and Crossing to Safety--this is his the incredible, moving sequel to the bestselling Big Rock Candy Mountain.

Bruce Mason returns to Salt Lake City not for his aunt's funeral, but to encounter the place he fled in bitterness forty-five years ago. A successful statesman and diplomat, Mason had buried his awkward childhood and sealed himself off from the thrills and torments of adolescence to become a figure who commanded international respect.
            Both the realities of the present recede in the face of ghosts of his past. As he makes the perfunctory arrangements for the funeral, we enter with him on an intensely personal and painful inner pilgrimage: we meet the father who darkened his childhood , the mother whose support was both redeeming and embarrassing, the friend who drew him into the respectable world of which he so craved to be a part, and the woman he nearly married. In this profound book, the sequel to the bestselling The Big Rock Candy Mountain, Wallace Stegner has drawn an intimate portrait of a man understanding how his life has been shaped by experiences seemingly remote and inconsequential.
Praise For Recapitulation: A Novel…
"This is Stegner's The Sound and the Fury. Like the Faulkner novel, Recapitulation is a book about time and its multiplicity of meanings in human experience, about the history of a family and its decline." —Jackson J. Benson, author of Wallace Stegner: His Life and Work
 
"Stegner's cool-handed assurance—and his heightened visibility as a National Book Award winner—will reach out to...earnest readers." —Kirkus Reviews
Vintage, 9780525435426, 288pp.
Publication Date: January 16, 2018
About the Author
Wallace Stegner (1909-1993) was the author of, among other novels, Remembering Laughter, 1937; The Big Rock Candy Mountain, 1943; Joe Hill, 1950; All the Little Live Things, 1967 (Commonwealth Club Gold Medal); A Shooting Star, 1961; Angle of Repose, 1971 (Pulitzer Prize); The Spectator Bird, 1976 (National Book Award, 1977); Recapitulation, 1979; and Crossing to Safety, 1987. His nonfiction includes Beyond the Hundredth Meridian, 1954; Wolf Willow, 1963; The Sound of Mountain Water (essays), 1969; The Uneasy Chair: A Biography of Bernard DeVoto, 1974; and Where the Bluebird Sings to the Lemonade Springs: Living and Writing in the West (1992). Three of his short stories have won O. Henry Prizes, and in 1980 he received the Robert Kirsch Award from the Los Angeles Times for his lifetime literary achievements. His Collected Stories was published in 1990.
or
Not Currently Available for Direct Purchase