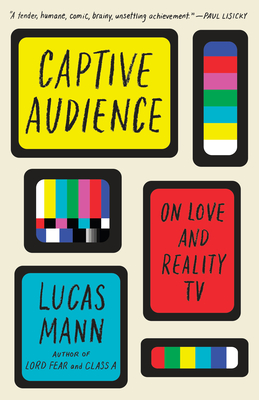 Captive Audience
On Love and Reality TV
Paperback

* Individual store prices may vary.
Other Editions of This Title:
Digital Audiobook (4/30/2018)
Description
From the national bestselling author of Lord Fear and Class A comes "a tender, humane, comic, brainy, unsettling achievement" (Paul Lisicky, author of The Narrow Door: A Memoir of Friendship) about what it means to live an authentic life and what it means to love a person. 

In Lucas Mann's trademark vein—fiercely intelligent, self-deprecating, brilliantly observed, idiosyncratic, personal, funny, and infuriating—Captive Audience is an appreciation of reality television wrapped inside a love letter to his wife, with whom he shares the guilty pleasure of watching "real" people bare their souls in search of celebrity. Captive Audience resides at the intersection of popular culture with the personal; the exhibitionist impulse, with the schadenfreude of the vicarious, and in confronting some of our most suspect impulses reveals surprising connections and the meaning of an authentic life.
Praise For Captive Audience: On Love and Reality TV…
"If Mann doesn't quite elevate reality TV to an art form—and that's unlikely his intention—he makes a persuasive argument for readers to sit up and take notice. The cultural implications are perhaps more potent than we'd like to believe. An immensely captivating consideration of reality TV and a moving reflection on marriage." —Kirkus Reviews (starred)

"What other book goes so boldly into the insatiable need to be seen? Who else is as tough on his own perceptions? I already knew Lucas Mann was a wonder of a writer, but Captive Audience is his best book yet: a tender, humane, comic, brainy, unsettling achievement." —Paul Lisicky, author of The Narrow Door: A Memoir of Friendship

"I'm an ardent admirer of Lucas Mann's work. Captive Audience shows us how to do 'media criticism' the right way or rather the wrong way, the more electric and exciting way: The target is never out there; it's in here. A galvanizing, illuminating, and nervy book." —David Shields, author of Other People and Reality Hunger

"Exuberantly intelligent and thoughtfully romantic, Captive Audience is an ode to two of America's favorite pastimes: falling in love, and watching ourselves on TV.  With uncommon insight and humor, Lucas Mann weaves a textile of analysis, feeling, and good old-fashioned voyeurism that not only captivates but entertains." —Alexandra Kleeman, author of You Too Can Have a Body Like Mine

"I was initially drawn to Captive Audience's smashing critical analysis and savvy pop culture apologies, but what I ended up cherishing most of all is this book's vivid portraiture. Mann has written a soulful recounting of not just a decade of watching reality TV as it has evolved past entertainment into something more complex, public, and even sinister, but a story of doing so alongside another person—a beloved life partner, nonetheless, with whom his shared reality also evolves and deepens. Who could have imagined that one of the most evocative love stories I've read in ages would be mixed into heady investigations of Joe Millionaire, COPS, and Vanderpump Rules?" —Elena Passarello, author of Animals Strike Curious Poses

"Over and over again, while reading Captive Audience, I was struck by Lucas Mann's refusal to be satisfied by the insights that might satisfy another writer. Instead, he questions each of these insights: digs under it, complicates it, wonders why he felt inspired to utter it, wonders if its opposite might be just as true. The idea of epiphany makes him restless, but this restlessness is a gift to the rest of us. And running like a passionate ribbon through all of his ferocious questioning—about authenticity, presence, self-awareness and self-possession—is an unapologetic love story, full of the daily performances and unexpected grace of reality itself." —Leslie Jamison, author of The Empathy Exams

"This is book is about what it means to see and be seen. And more: it is about what it means to see and be seen in love. Lucas Mann always writes openly, even ecstatically, at the boundaries of the essay form. Captive Audience offers the pleasure of reading all these things: memoir, lucid cultural analysis, TV Guide, journalism, and, most of all, glorious love letters hurting with shared joys and naked vulnerability." —Amitava Kumar, author of Immigrant, Montana

"Lucas Mann's Captive Audience is brilliant. From his funny, poignant ruminations on trashy TV to his quest to truly know his wife and to see himself through her eyes, Mann has deftly created a new kind of entertainment: a relationship that's as addictive to witness as the best kinds of reality television, only real." —Lindsay Hunter, author of Eat Only When You're Hungry

"There is no cultural critic in America like Lucas Mann. Perhaps that's because he turns on the television and sees what you don't—in the vulgar and striving world of reality television, he finds beauty and heart in the ambition that drove these over-tanned and underfed people to perform for us—and that brought us in to watch. Mann's voice is filled with empathy, irony, and a tenderness that will make you laugh and then ache, sometimes within the span of a single, perfectly constructed sentence. Captive Audience is the definitive book on the aging but perennially renewed genre of reality TV, and there isn't an author alive who could have written it better."  —Kristen Radtke, author of Imagine Only Wanting This

"Epistolary writing is custom-made for immodesty and oversharing, the kinds of filter-less self-display, as Lucas Mann shows us, that we happen to want from reality TV stars. But in this epistle to his wife, Mann explores their shared enthusiasm for reality television and proves there is insight and virtue to be found in examining the desire to be seen. He gets closer to that dimension of intimacy and love, in fact, than any spotlight-seeker yet who has beguiled us from our most private screens." —Gregory Pardlo, author of Air Traffic

Vintage, 9780525435549, 272pp.
Publication Date: May 1, 2018
About the Author
LUCAS MANN was born in New York City and received his MFA from the University of Iowa, where he was the Provost's Visiting Writer in Nonfiction. He is also the author of Lord Fear: A Memoir, which was named one of the best books of 2015 by The Miami Herald, Kirkus Reviews, Paper Magazine, Largehearted Boy, and Oprah, and Class A: Baseball in the Middle of Everywhere, which was named one of the best books of 2013 by The San Francisco Chronicle. His essays have appeared in Guernica, BuzzFeed, Slate, and The Kenyon Review, among others. He recently received a 2018 NEA Fellowship for Literature. He teaches creative writing at the University of Massachusetts Dartmouth and lives in Providence, Rhode Island with his wife.
or
Not Currently Available for Direct Purchase