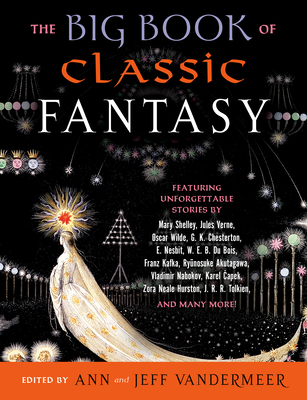 The Big Book of Classic Fantasy
Paperback

* Individual store prices may vary.
Description
A FINALIST FOR THE 2020 WORLD FANTASY AWARD

Unearth the enchanting origins of fantasy fiction with a collection of tales as vast as the tallest tower and as mysterious as the dark depths of the forest.

Fantasy stories have always been with us. They illuminate the odd and the uncanny, the wondrous and the fantastic: all the things we know are lurking just out of sight—on the other side of the looking-glass, beyond the music of the impossibly haunting violin, through the twisted trees of the ancient woods. Other worlds, talking animals, fairies, goblins, demons, tricksters, and mystics: these are the elements that populate a rich literary tradition that spans the globe. A work composed both of careful scholarship and fantastic fun, The Big Book of Classic Fantasy is essential reading for anyone who's never forgotten the stories that first inspired feelings of astonishment and wonder.

INCLUDING:

*Stories by pillars of the genre like the Brothers Grimm, Hans Christian Andersen, Mary Shelley, Christina Rossetti, L. Frank Baum, Robert E. Howard, and J. R. R. Tolkien
*Fantastical offerings from literary giants including Edith Wharton, Leo Tolstoy, Willa Cather, Zora Neale Hurston, Vladimir Nabokov, Hermann Hesse, and W.E.B. Du Bois
*Rare treasures from Asian, Eastern European, Scandinavian, and Native American traditions
*New translations, including fourteen stories never before in English

PLUS:

*Beautifully Bizarre Creatures! *Strange New Worlds Just Beyond the Garden Path!
*Fairy Folk and Their Dark Mischief! *Seriously Be Careful—Do Not Trust Those Fairies!
Praise For The Big Book of Classic Fantasy…
"The VanderMeers have compiled an eminently readable collection of stories from authors around the world, seeking to introduce fantasy lovers to many rarely seen and underappreciated gems while still including a handful of more well-known authors to balance the mix. . . . This quintessential anthology is destined to become the standard by which future fantasy classic anthologies are measured. . . . [A] must-have anthology."
—Kirkus Reviews, "SF/F/H Novels, Short Stories, and Sequels to Look for in July"

"The VanderMeers bring to fantasy the same monumental efforts at curation and translation that brought about the massive, absolutely essential 2016 anthology The Big Book of Science Fiction. . . . [This] collection traces the development of an entire genre and places it into glorious context."
—Tor
 
"Invaluable. . . . Varied and textured examples of fantasy in literature that readers and students may not have been exposed to previously."
—The Fredericksburg Free Lance-Star

"An impressive cross-section of early fantasy in this fascinating anthology of 90 stories. . . . This sweeping panorama of fantasy is a must-have for those interested in the roots of modern fantasy, and it gives a welcome introduction to many unexpected delights."
—Publishers Weekly

"Dozens upon dozens of seminal fantasy stories, some well-known and others delightfully rescued from obscurity. . . . Like its SF counterpart, this dense and exhaustive collection would serve as an admirable survey course for the genre."
—Kirkus Reviews
Vintage, 9780525435563, 848pp.
Publication Date: July 2, 2019
About the Author
ANN VANDERMEER currently serves as an acquiring editor for Tor.com and Weird Fiction Review and is the editor-in-residence for Shared Worlds. She was the editor-in-chief for Weird Tales for five years, work for which she won a Hugo Award. She also has won a World Fantasy Award and a British Fantasy Award for coediting The Weird: A Compendium of Strange and Dark Stories.

JEFF VANDERMEER is the New York Times bestselling author of the Southern Reach trilogy, the first novel of which, Annihilation, won the Shirley Jackson Award and was made into a film by Paramount Pictures. His recent novel Borne has been selected for the NEA Big Reads program and was a finalist for the Arthur C. Clarke Award.