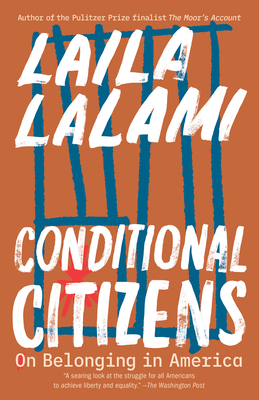 Conditional Citizens
On Belonging in America
Paperback

* Individual store prices may vary.
Other Editions of This Title:
Digital Audiobook (9/21/2020)
Hardcover (9/22/2020)
Description
A New York Times Editors' Choice • Finalist for the California Book Award • Longlisted for the Andrew Carnegie Medal for Excellence in Nonfiction • Best Book of the Year: Time, NPR, Bookpage, Los Angeles Times

In this brilliantly argued and deeply personal work, Pulitzer Prize finalist Laila Lalami recounts her unlikely journey from Moroccan immigrant to U.S.citizen, using her own story as a starting point for an exploration of the rights, liberties, and protections that are traditionally associated with American citizenship. Tapping into history, politics, and literature, she elucidates how accidents of birth—such as national origin, race, and gender—that once determined the boundaries of Americanness still cast their shadows today, poignantly illustrating how white supremacy survives through adaptation and legislation. Weaving together her experiences with an examination of the place of nonwhites in the broader American culture, Lalami illuminates how conditional citizens are all those whom America embraces with one arm and pushes away with the other.
Praise For Conditional Citizens: On Belonging in America…
"A searing look at the struggle for all Americansto achieve liberty and equality." —The Washington Post

"A tightly packed examination of the whimsical nature of American citizenship. . . . Lalami's writing refects a citizen who's descried the matted underbelly of her adopted home, a citizen cautioning us that what we believe of ourselves, our laws, our country has and will shift to suit the ever-changing demands of power." —San Francisco Chronicle

"Sharp, bracingly clear. . . . [Conditional Citizens] doesn't just ask you to consider that the personal is political; it makes you marvel that anyone could still presume otherwise." —Entertainment Weekly

"Political writing at its most effective, grounded in the author's experience but turned outward, to the inequities (and worse) many Americans face as a matter of course." —Los Angeles Times

"An urgent, compelling, and persuasive book, written by one of our most important critics of the American character. Lalami has given us a clear-eyed, evenhanded assessment of this country's potential—and its limits—through her insightful notion of conditional citizenship. Her book is a gift to all Americans—if they are willing to receive it."—Viet Thanh Nguyen, author of The Sympathizer and Nothing Ever Dies

"Lalami's passionate exploration shows that for citizens like herself, being treated as fully American is rarely a given. In striking prose, she explores the United States' tortured history of questioning who belongs and forces us to examine the gap between the dream and the reality of American life." —Time

"No-holds-barred. . . . [Lalami] thread[s] together the experiences of a breathtakingly diverse underclass." —NPR

"An argument for active, equal United States citizenship. . . . [A] very strong book." —The Boston Globe

"Probing, unflinching, and fiercely intelligent. . . . Laila Lalami writes with such sharp clarity and illuminating insight that reading this book was like encountering America for the first time." —Maaza Mengiste, author of The Shadow King

"The beautifully written personal stories . . . give Conditional Citizens a flair and warmth rare in a polemic about what's wrong with America." —Minneapolis Star Tribune

"[A] propulsive, fascinating, and infuriating account of citizenship in the U.S. . . . Lalami treats this complex, incendiary topic with nuanced consideration and blistering insight." —Booklist (starred review)

"Lalami shows how our nation's schizophrenia toward immigrants—Immigrants built this great country! We are a nation of immigrants! Immigrants bring disease, crime and rob us of our jobs!—can give conditional citizens whiplash as they are simultaneously regarded as America's best hope and its gravest threat, a combination of suspicion and rejection that Asians, Italians and the Irish, among others, have all faced." —The New York Times Book Review

"[A] profound inquiry into the American immigrant experience. . . . Lalami offers essential insights into how racism and sexism function in American society." —Publishers Weekly (starred review)

"With great moral passion and intellectual verve, Lalami explores the questions the political volcanoes of our times have thrown at us. . . . She equips us with bracingly fresh resources to confront our terrible new age of mass deportations, border walls, and brutally enforced statelessness." —Pankaj Mishra, author of Age of Anger
Vintage, 9780525436041, 208pp.
Publication Date: October 19, 2021
About the Author
Laila Lalami was born in Rabat and educated in Morocco, Great Britain, and the United States. She is the author of four novels, including The Moor's Account, which won the American Book Award, the Arab American Book Award, and the Hurston/Wright Legacy Award and was a finalist for the Pulitzer Prize. Her most recent work, The Other Americans, was a finalist for the National Book Award. Her essays have appeared in the Los Angeles Times, The Washington Post, The Nation, Harper's Magazine, The Guardian, and The New York Times. Lalami is a professor of creative writing at the University of California, Riverside. She lives in Los Angeles.
www.lailalalami.com