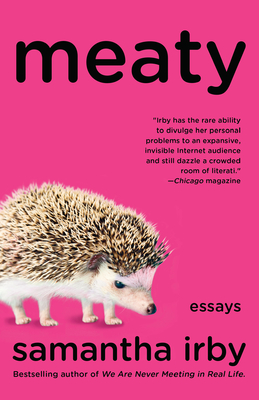 Meaty
Essays
Paperback

* Individual store prices may vary.
Other Editions of This Title:
Digital Audiobook (12/30/2019)
Digital Audiobook (4/2/2018)
Paperback (10/1/2013)
Description
Smart, edgy, hilarious, and unabashedly raunchy New York Times bestselling author Samantha Irby explodes onto the printed page in her uproarious first collection of essays. 

Irby laughs her way through tragicomic mishaps, neuroses, and taboos as she struggles through adulthood: chin hairs, depression, bad sex, failed relationships, masturbation, taco feasts, inflammatory bowel disease and more. Updated with her favorite Instagramable, couch-friendly recipes, this much-beloved romp is treat for anyone in dire need of Irby's infamous, scathing wit and poignant candor.
Praise For Meaty: Essays…
A Barnes & Noble Holiday 2013 Discover Great New Writers Selection
An Emily Books Book Club Selection
A Publishers Weekly Fall 2013 Big Books by Small Presses
A COSMO Best 22 Books of the Year For Women, By Women

"Ask me who my favorite author is and I won't hesitate to reply with, "Samantha Irby." I love Irby's books so much that I would, without a shadow of a doubt, flip to a random page in any one of them, close my eyes, point to a sentence, and tattoo said sentence across my clavicle. That's how much I love this woman."
— Greg Mania, Paper Magazine

"Chicago favorite well-loved around The A.V. Club offices, Samantha Irby is getting some long-due national attention after her 2017 collection....Irby's first book, Meaty, has been re-relased, and anyone who picked up We Are Never Meeting In Real Life or has enjoyed her blog, Bitches Gotta Eat, should once more immerse themselves in her startling humor and wit."
— A. V. Club

"Raunchy, funny and vivid…Those faint of heart beware...strap in and get ready for a roller-coaster ride to remember."
— Kirkus Reviews

"Amazingly crass, defiant, witty, terrifying, and wondrous...[Irby] cuts the bawdy, wickedly funny pieces with some truly poignant palate cleansers...Irby's voice is raw, gripping, and ...Delicious."
— Booklist

"Her candor in style and subject matter—mostly sex, dating, and the general lousiness of men—has earned Samantha Irby a cult following... Honesty mixed with self-deprecating humor is what propels reader."
— Time Out Chicago

"Samantha Irby is as bad as she wants to be."
— Chicago Tribune

"Whether she's writing about her latest inflammatory bowel disease attack or documenting a sexual escapade gone awry (sometimes simultaneously), you'll most likely be able to relate to Irby's tell-all book. Her raw honesty and scathing sense of humor will make you laugh out loud…"
— JET

"There is no summing up Sam—no writerly preface, no small-talk tidbits, no rundown of vital stats that can suffice. She is irreducible, like a prime number, or a quark [...] Irby's writing has a powerfully intimacy, a direct connection between her and her readers. On the page, she's more an essayist than a storyteller per se, with the essayist's intellectual habits—exploring ideas, contradicting herself, poking thoughts to see if they burst, and then reveling in the mess."
— Chicago Reader

"Irby has the rare ability to divulge her personal problems to an expansive, invisible Internet audience and still dazzle a crowded room of literati."
— Chicago Magazine
Vintage, 9780525436164, 272pp.
Publication Date: April 3, 2018
About the Author
Samantha Irby writes a blog called bitches gotta eat.