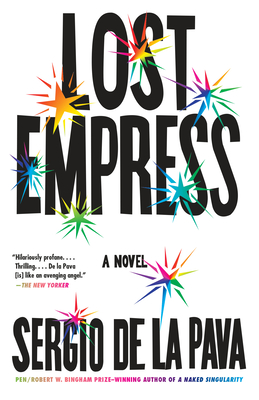 Lost Empress
A Novel
Paperback

* Individual store prices may vary.
Other Editions of This Title:
Digital Audiobook (5/7/2018)
Hardcover (5/8/2018)
Description
FROM THE PEN/ROBERT W. BINGHAM PRIZE-WINNING AUTHOR OF A NAKED SINGULARITY

Led by a renegade young owner out for revenge against her traitorous family, the Paterson Pork—New Jersey's only Indoor Football League franchise—is challenging the Dallas Cowboys for championship glory.

Meanwhile, a brilliant and lethal mastermind has gotten himself intentionally thrown into prison on Rikers Island with plans to commit the most audacious crime of all time.

And is the world ending? Maybe.

Filled with impossible triumphs and grave injustices, Lost Empress is another brilliant, hilarious, and eccentric masterpiece from Sergio de la Pava: a vibrant exultation of a novel, populated by a cast of unforgettable characters—immigrants, exiles, and outsiders—who will have you rooting for them, right up until the end.
Praise For Lost Empress: A Novel…
"De la Pava . . . can seem like an avenging angel, at least for those with a certain view of what ails contemporary American literature . . . . Hilariously profane . . . . Thrilling . . . . Colloquial in tempo yet nerdy in content, divinely detached yet intimately casual in tone, impossibly learned and improvisational at the same time . . . . There are, to be sure, trace elements in Lost Empress of David Foster Wallace and William Gaddis and other postmodern giants. What's unusual—electrifyingly so—is to see this kind of polyphonic, self-conscious literary performance and all-stops-pulled-out postmodernist production value brought to bear on underclass lives, and on questions of social justice that tend not to penetrate the soundproofing of the ivory tower."
—The New Yorker

"The book oscillates between hilarious surrealism and shocking reality. As in his first novel, A Naked Singularity, Mr de la Pava (a public defender) deploys his expertise in a maximalist form reminiscent of Thomas Pynchon and David Foster Wallace . . . . With messianic fervour, he conjures up marginalised voices and the horrors of mass incarceration, against a backbeat of sporting thrills and that apocalyptic crescendo."
—The Economist

"In the tradition of maximalists like Thomas Pynchon and William Gaddis. . . . Half farce, half serious social novel, half compendium of meditations on everything from Joni Mitchell's early albums to the superiority of football's 4-3 defensive alignment. That's three halves, but as with A Naked Singularity, Lost Empress feels bigger than a single book. . . . It carries the reader into a teeming, complex world guided by a logic that's never far removed from lunacy."
—The Wall Street Journal

"De la Pava is among the last of a vanishing breed: a society-spanning novelist of ideas. . . . Lost Empress interrogates its central subjects—justice, art, poverty—with great urgency."
—The Nation

"Uproarious. . . . A broad societal farce that bounds from the sky lounge to the prison yard."
—The Guardian

"As with the author's debut novel, A Naked Singularity (2012), the New York City criminal justice system figures prominently, its jargon and bureaucratic instruments providing realist texture, while its absurdities and cruelties fuel the fury that is this novel's molten core. Again we witness De La Pava's gleaming wit, philosophical benders and popculture fixations, and the sheer intensity with which he hurls his words in this even more assured work of incandescent literary maximalism."
—Booklist (starred review)

"Extraordinary. . . . De la Pava is a maximalist worldbuilder, and the incredible multiverse he constructs in this book establishes him as one of the most fearsomely talented American novelists working today."
—Publishers Weekly (starred review)

"If Thomas Pynchon and Elmore Leonard had conspired to write North Dallas Forty, this might be the result: a madcap, football-obsessed tale of crossed destinies and criminal plots gone awry. . . . [Lost Empress] is a blast to watch unfold. A whirling vortex of a novel, confusing, misdirecting, and surprising—and a lot of fun."
—Kirkus Reviews (starred review)

"This multifaceted tour de force. . .waxes both hilarious and tragic in equal measure as it oscillates among several fascinating and interrelated characters. . . . Highly recommended."
—Library Journal (starred review)
Vintage, 9780525436218, 640pp.
Publication Date: April 16, 2019
About the Author
SERGIO DE LA PAVA is the author of A Naked Singularity and Personae. He is a public defender in New York City.
or
Not Currently Available for Direct Purchase