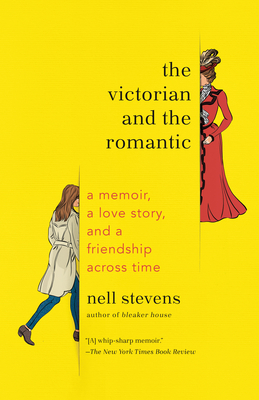 The Victorian and the Romantic (Paperback)
A Memoir, a Love Story, and a Friendship Across Time
Anchor, 9780525436409, 272pp.
Publication Date: July 16, 2019
Other Editions of This Title:
Digital Audiobook (8/6/2018)
Hardcover (8/7/2018)
* Individual store prices may vary.
Description
In this tale of two writers, Nell Stevens interweaves her own life as a twenty-something graduate student with that of the English author, Elizabeth Gaskell. Although they are separated by more than 150 years, Nell finds herself drawn to the Victorian novelist by their shared experiences of unrequited love—Gaskell for an American critic she met in Rome, Nell for a soulful American screenwriter living in Paris. As Nell's romance founders and her passion for academia fails to materialize, she finds herself wondering if the indomitable Mrs. Gaskell might rescue her pursuit of love, family, and a writing career. Lively, witty, and impossible to put down, The Victorian and the Romantic is a moving chronicle of two women, each charting a way of life beyond the rules of her time.
About the Author
Nell Stevens has a degree in English and creative writing from the University of Warwick, an M.F.A. in fiction from Boston University, and a Ph.D. in Victorian literature from King's College London. She is the author of the memoir Bleaker House and is at work on a novel. www.nellstevens.com
Praise For The Victorian and the Romantic: A Memoir, a Love Story, and a Friendship Across Time…
"[A] whip-sharp memoir." —The New York Times Book Review

"Stevens is winningly self-deprecating, and an excellent observer of the absurdities of both romance and academia." —The New Yorker

"Charming. . . . Afloat with admiration and affection for its subject. . . . [Stevens] has an analytical eye and a wonderful taste for absurdity." —The Guardian
 
"A fascinating . . . view into the enigmatic experience of authorship and the vagaries of love." —The Washington Post

"Utterly engaging. . . . Stevens is a very artful writer—the structure she chooses is inspired—and the book builds to a surprising, and surprisingly moving, ending." —Rebecca Mead, NewYorker.com
 
"Stevens movingly interweaves her love life with that of 19th-century English novelist Elizabeth Gaskell in this lyrical work. . . . [She] nimbly explores the complexities of unrequited love, and of the camaraderie she formed with a writer who lived more than a century earlier." —Publishers Weekly
 
"A witty, humane work of historical storytelling brilliantly enmeshed with an almost love story. Nell Stevens intelligently shows us that it isn't only the happy endings that come to define our lives, but also those loves that cannot be. I loved it." —Rhiannon Lucy Cosslett, author of The Tyranny of Lost Things
 
"Beautifully written." —Kirkus Reviews
 
"Extraordinary, delightful and very moving. . . . [A] funny, heartfelt book." —The Irish Times
 
"Equal parts personal memoir and history, [The Victorian and the Romantic] will appeal to anyone who has struggled with love, loss, and facing an uncertain future." —Library Journal
 
"A tender, clever, sublimely crafted book that celebrates the struggles and triumphs of writing, love, and the desire for connection." —Kiran Millwood Hargrave, author of The Island at the End of Everything
 
"[Stevens] captures the emotions involved when missing a loved one and wanting to be with them again, the sweet satisfaction of each reunion and the lengths they go to manage to see each other. Stevens evokes this spirit of longing and bliss throughout her own story, as well as that of Mrs. Gaskell, proving that though times may change, feelings of the heart never do." —The Free Lance–Star (Fredericksburg, VA)
 
"Acutely observed and honest and melancholy. A truly lovely book." —Jesse Greengrass, author of Sight
 
"A delightful read. . . . Stevens alternates chapters between her own life and her discoveries of Gaskell's, using the device to great effect." —Booklist