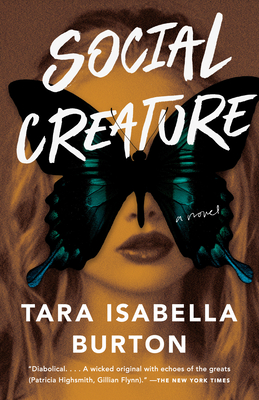 Social Creature (Paperback)
A Novel
Anchor, 9780525436416, 288pp.
Publication Date: June 18, 2019
Other Editions of This Title:
Digital Audiobook (6/4/2018)
Hardcover (6/5/2018)
Library Binding, Large Print (9/1/2018)
* Individual store prices may vary.
Description
One of the Best Books of the Year:
Janet Maslin, The New York Times
Vulture
NPR

"Social Creature is a wicked original with echoes of the greats (Patricia Highsmith, Gillian Flynn)." —Janet Maslin, The New York Times

For readers of Gillian Flynn and Donna Tartt, a dark, propulsive and addictive debut thriller, splashed with all the glitz and glitter of New York City.

They go through both bottles of champagne right there on the High Line, with nothing but the stars over them... They drink and Lavinia tells Louise about all the places they will go together, when they finish their stories, when they are both great writers-to Paris and to Rome and to Trieste...

Lavinia will never go. She is going to die soon.

Louise has nothing. Lavinia has everything. After a chance encounter, the two spiral into an intimate, intense, and possibly toxic friendship. A Talented Mr. Ripley for the digital age, this seductive story takes a classic tale of obsession and makes it irresistibly new.
About the Author
TARA ISABELLA BURTON is a writer of fiction and non-fiction. Winner of the Shiva Naipaul Memorial Prize for Travel Writing, she completed her doctorate in 19th century French literature and theology at the University of Oxford and is a prodigious travel writer, short story writer and essayist for National Geographic, The Wall Street Journal, The Economist's 1843 and more. She is the former Religion Correspondent for Vox, lives in New York, and divides her time between the Upper East Side and Tbilisi, Georgia.
Praise For Social Creature: A Novel…
The New York Times, "17 Refreshing Books to Read This Summer"
Vulture, "18 Books We Can't Wait to Read This Summer"
Refinery29, "Brilliant Books to Bring to the Beach This Summer"
O: The Oprah Magazine, "Top Books of Summer"
People, "The Best New Books"
New York Post, "The 20 Best Reads for Your Summer Break"
Popsugar, "Best New Books for June"
Brit + Co, "12 Page-Turning New Books to Read in June"

"Diabolical...A wicked original with echoes of the greats (Patricia Highsmith, Gillian Flynn)."
—Janet Maslin, The New York Times 

"Sharp as a shard of broken mirror...a formidable burlesque by Tara Isabella Burton.  Her obvious model is Patricia Highsmith's Tom Ripley [but] Burton's tale has a great deal to say about the very tangible conventions of our time.  Its superb dialogue and cutting sense of humor help it glide irresistibly toward the unnerving moment when Louise has to decide whether to kill again."
—New York Times Book Review

"What would Patricia Highsmith have made of today's socialites with their squad goals and weaponized Instagrams? Probably a fictional stew of envy, tension, and mystery like the one Burton stirs together, crafting a story at once familiar and fresh, summery and shadowy."
—Vulture

"Edgy and hypnotic."
—People

"Dark, stylish...Burton's exceptional character work further elevates the tale; every individual is both victim and villain, imbuing their interactions with oceans of emotional subtext and creating conflict that propels the book toward its shocking yet inevitale conclusion...At once a thrilling and provocative crime novel, a devastating exploration of female insecurity, and a scathing indictment of society's obsession with social media."
—Kirkus *starred review*

"Fans of the cult classic Poison Ivy will appreciate the mousy girl-wild girl dynamic on display in Burton's fiendishly clever debut...An ingenious dark thrille rin the Patricia Highsmith Tom Ripley mode...This devious, satisfying novel perfectly captures a very narrow slice of the Manhattan demimonde."
—Publishers Weekly *starred review*

"Last summer, you read Jessica Knoll's Luckiest Girl Alive. You relish bad-girl thrillers fueled by toxic friendship, bad choices and exclusive parties. This summer, try Social Creature...Deliciously dark...Glorious fun."
—BookPage

"This fast-paced, stylish, dialogue- and character-driven debut...will definitvely ensnare readers. Diabolically playing on what we think we know about others and what we reveal about ourselves in the social-media age, it will give readers the creeps, too."
—Booklist

"Pulsing energy, polished language, perfectly drawn characters."
—Library Journal

"A Talented Mr. Ripley for the social media age."
—New York Post

"Burton has a gift for crafting suspenseful scenes while giving Louise and Lavinia each a fully formed inner life that makes them unforgettable."
—Stylecaster

"Social Creature is getting comparisons to novels like Gone Girl for good reason. The gritty thriller mixes the glitz and glamour of NYC with the darkness of murder, jealousy, and a lethal friendship between two young women."
—Popsugar

"This book is dark and disturbing, but totally compelling. I've never loved such unlikeable characters more."
—HelloGiggles

"Party Monster meets The Talented Mr. Ripley...Mysterious and addictive."
—Fodors, "The 22 Best Books to Read on Your Summer Vacation"

"One of the most darkly shimmering books I've read this summer."
—Constance Grady, Vox

"I inhaled Social Creature, which is like if Gossip Girl did a whole season in the mode of The Talented Mr. Ripley."
 —Emily Temple, LitHub

"A psychological thriller that echoes and updates Patricia Highsmith, with Burton using ever-present social media as an ingenious plot device."
—BBC, "10 Books to Read in June"

"A lot of books claim the mantle of Patricia Highsmith's Ripley series, but this book actually delivers…Based on reactions so far, it could easily prove to be the breakaway hit of the summer, and is perfect vacation reading."
—Nashville Tennessean

"A tale of wicked obsession...chilling...demands to be binge-read."
—Brit + Co

"Exactly the kind of book you have been looking for this summer (and every summer for that matter): a twisty, glamorous, hard-as-nails-but-also-polished game of murder and identity...Feels like some unholy matrimony between Fitzgerald and Highsmith."
—BrightestYoungThings.com

"Burton creates a tense world of escalating artifice that is choked with ambition and FOMO. The result is a pleasurable blend of anxiety and thrill that deepens with each new instance of narcissistic cruelty. Social Creature is a millennial update to Ripley, in a digital world where identity is even more porous and easily hijacked, and the fun of watching selves be invented is matched by the nastiness with which they are destroyed." 
—Caite Dolan-Leach, author of Dead Letters

"I read Social Creature in one breathless rush. It's a wild nightmarish ride through a New York City of decadence and broken dreams, faking it and f*cking up, love and lies and more lies. This is the missing link between Bret Easton Ellis and The Secret History."
 —Emma Flint, author of Bailey Prize longlisted Little Deaths

"Devious and decadent. I couldn't put it down."
—Courtney Maum, author of Touch and I Am Having So Much Fun Here Without You

"Glittering, breathless, and precise---Social Creature fearlessly explores identity in the modern world through a dangerous and magnetic friendship. Tara Isabella Burton's prose is electrifying, her characters dazzlingly bright. This novel will consume you."
—Danya Kukafka, bestselling author of Girl in Snow

"A mesmerizing and beautifully lyrical debut about sexuality, identity, envy, confusion, and the creepy ways in which we swallow one another in attempt to become ourselves."
— Swan Huntley, author of The Goddesses and We Could Be Beautiful

"A compulsively readable, razor sharp novel for the social media age. Edith Wharton meets Patricia Highsmith."
— Carol Goodman, bestselling author of The Lake of Dead Languages and The Widow's House

"Unflinching, cool, brutal. This book will make you its accomplice. You'll go willingly."
— Georgia Clark, author of The Regulars

"Lavis and wild and bohemian, Social Creature swept me up in its spell, spun me round the streets of New York and left me wanting moore. This book is ALL THAT JAZZ and then some."
—Ali Land, author of Good Me, Bad Me

"One of those rare literary thrillers that doesn't sacrifice one element for the other. It's fresh, fearless and exciting."
—Amy Lloyd, author of The Innocent Wife