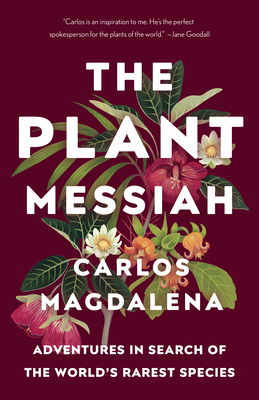 The Plant Messiah (Paperback)
Adventures in Search of the World's Rarest Species
Anchor, 9780525436669, 288pp.
Publication Date: March 19, 2019
Other Editions of This Title:
Digital Audiobook (4/9/2018)
Hardcover (4/10/2018)
* Individual store prices may vary.
Description
Carlos Magdalena is a man on a mission: to save the world's most endangered plants. In The Plant Messiah, Magdalena takes readers from the forests of Peru to deep within the Australian outback in search of the rare and the vulnerable. Back in the lab—at the Royal Botanic Gardens, Kew, home of the largest botanical collection in the world—we watch as he develops groundbreaking, left-field techniques for rescuing species from extinction, encouraging them to propagate and thrive once again. Passionate and absorbing, The Plant Messiah is a tribute to the diversity of life on our planet, and to the importance of preserving it.
About the Author
Carlos Magdalena is the Tropical Senior Botanical Horticulturist at the Royal Botanic Gardens, Kew, and an international lecturer. He is renowned for his unique skills as a plant propagator who is saving the world's rarest plants.
Praise For The Plant Messiah: Adventures in Search of the World's Rarest Species…
"Carlos is an inspiration to me. He's the perfect spokesperson for the plants of the world." —Jane Goodall, primatologist and UN Messenger of Peace

"In a world whose ecology is changing so fast, only a special kind of obsessive would concern himself with saving endangered plant species. That's Magdalena . . . who recounts adventures that have taken him from the Amazon to the jungles of Mauritius on a quest to preserve as much flora as he can." —The New York Times Book Review

"[A] full-throttle memoir." —Nature
 
"A thrilling and inspirational account of adventures in the botanical world. . . . [Magdalena's] passion for his subject could just be enough to help the rest of us shed the scales from our plant-blind eyes." —The Wall Street Journal

"It is fascinating to follow Magdalena as he travels from remote Australian billabongs full of rare water lilies to the dry forests of western Peru. . . . But the greater accomplishment of The Plant Messiah is the compelling case that Magdalena makes [for] caring about plants in general." —Los Angeles Times

"A gripping account. . . . The work done by Magdalena and others like him is nothing short of miraculous. . . . [The Plant Messiah] illustrates just how much can be done to save even species that all but the greatest optimist would consider doomed." —The New York Review of Books
 
"Bound to enthrall. . . . With evident passion for endangered and common plant species alike, Magdalena . . . shares his experiences traveling the world in his quest to save plant species before they go extinct." —Publishers Weekly (starred review)
 
"Magdalena's claim to be a green-fingered Jesus has its merits. His record of propagating plants that others have consigned to botanical history is impressive. . . . Some 30,000 plants have recorded uses for humans. Most people, the messiah preaches, are blind to these everyday miracles. This book will teach them to see." —The Economist
 
"Magdalena's excitement about plants and their propagation is contagious, and even those lacking green thumbs should be fascinated by his travels and adventures in science." —Kirkus Reviews
 
"The Plant Messiah's storytelling structure and loving descriptions of rare plants are an unabashed appeal to emotion, attempting to light the same passion for the living world in Magdalena's readers. But under the bubbling enthusiasm there is one rock-solid fact: we don't know which species we can spare." —Los Angeles Review of Books
 
"Botany, on its face, doesn't sound particularly thrilling. This book will change your mind." —Bill McKibben, New York Times best-selling author of Eaarth: Making a Life on a Tough New Planet and Radio Free Vermont
 
"A page-turner exalting biodiversity." —Library Journal
 
"Magdalena's poetic prose and attention to detail drew me in. He reminded me that we not only have birds and lizards to lose. We can also lose food sources, culture, and beauty." —Yessenia Funes, Earther
 
"An inspirational and suspenseful memoir of [Magdalena's] botanical adventures and plant advocacy." —The Missourian (Columbia, MO)
 
"The Plant Messiah reads like a detective novel. . . . A thrillingly uplifting book." —Daily Mail
 
"A book that will inspire wonder, even hope." —Booklist