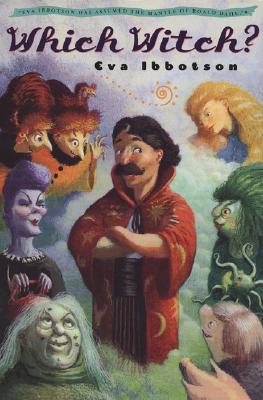 Which Witch? (Hardcover)
Dutton Juvenile, 9780525461647, 224pp.
Publication Date: August 1, 1999
Other Editions of This Title:
Paperback (7/3/2000)
Paperback (10/9/2014)
Hardcover (7/1/2010)
* Individual store prices may vary.
Description
"Me marry! Are you out of your mind? Who would I marry?" Arriman muttered miserably.
But of course he knew. All of them knew. There is only one kind of person a wizard can marry, and that is a witch.
Arriman the Awful, the Wizard of the North, needs a wife. But which witch will Arriman choose? Warty, wicked, or just plain rude -- witches galore enter his spell-casting competition. Mabel Wrack, half mermaid, specializes in fishy magic; old Mother Bloodworth knows every spell in the book (well, maybe not that turning-young-again one), and the Shouter twins would kill each other to win -- really! Poor Belladonna, the smallest of the coven, doesn't have a chance. As hard as she tries to be evil, her spells conjure up nice pink begonias or scrumptious ice-cream sundaes, not a single viper or toad.
But Belladonna is determined to do something sinister in time for the contest, and with the help of a mysterious orphan and a worm named Rover, she just might pull it off.
That is, if Madame Olympia, an enchantress who accessorizes with human teeth, doesn't get to Arriman first.
Eva Ibbotson, author of The Secret of Platform 13, has created another fiendishly funny fantasy.

or
Not Currently Available for Direct Purchase