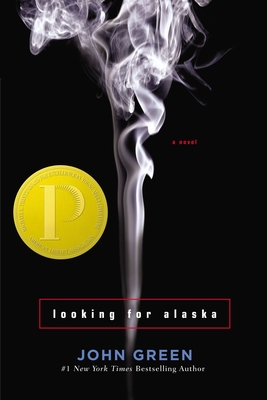 Looking for Alaska (Hardcover)
Dutton Books for Young Readers, 9780525475064, 240pp.
Publication Date: March 3, 2005
* Individual store prices may vary.
Description
The award-winning, genre-defining debut from John Green, the #1 international bestselling author of Turtles All the Way Down and The Fault in Our Stars
Winner of the Michael L. Printz Award
Los Angeles Times
Book Prize Finalist
New York Times
bestseller
First drink
First prank
First friend
First girl
Last words

Miles "Pudge" Halter is abandoning his safe-okay, boring-life. Fascinated by the last words of famous people, Pudge leaves for boarding school to seek what a dying Rabelais called the "Great Perhaps."
Pudge becomes encircled by friends whose lives are everything but safe and boring. Their nucleus is razor-sharp, sexy, and self-destructive Alaska, who has perfected the arts of pranking and evading school rules. Pudge falls impossibly in love. When tragedy strikes the close-knit group, it is only in coming face-to-face with death that Pudge discovers the value of living and loving unconditionally.
John Green's stunning debut marks the arrival of a stand-out new voice in young adult fiction.
About the Author
John Green is the award-winning, #1 bestselling author of Looking for Alaska, An Abundance of Katherines, Paper Towns, Will Grayson, Will Grayson (with David Levithan), and The Fault in Our Stars. His many accolades include the Printz Medal, a Printz Honor, and the Edgar Award. He has twice been a finalist for the LA Times Book Prize. John was selected by TIME magazine as one of the 100 Most Influential People in the World. With his brother, Hank, John is one half of the Vlogbrothers (youtube.com/vlogbrothers), one of the most popular online video projects in the world. You can join the millions who follow John on Twitter (@realjohngreen) and tumblr (fishingboatproceeds.tumblr.com) or visit him online at johngreenbooks.com.

John lives with his family in Indianapolis, Indiana.
Praise For Looking for Alaska…
An ALA Best Book for Young Adults Top 10
An ALA Quick Pick for Reluctant Young Readers
A 2005 Booklist Editors' Choice
A Kirkus Best Book of 2005
A 2005 SLJ Best Book of the Year
A New York Public Library Book for the Teen Age

"What sets this novel apart is the brilliant, insightful, suffering but enduring voice of Miles Halter." --Chicago Tribune

"Funny, sad, inspiring, and always compelling." --Bookpage

"Stunning conclusion . . . one worthy of a book this good." --Philadelphia Inquirer

"The spirit of Holden Caulfield lives on." --Kliatt

"What sings and soars in this gorgeously told tale is Green's mastery of language and the sweet, rough edges of Pudge's voice. Girls will cry and boys will find love, lust, loss and longing in Alaska's vanilla-and-cigarettes scent." Kirkus, starred review

"Miles's narration is alive with sweet, self-deprecating humor, and his obvious struggle to tell the story truthfully adds to his believability. Like Phineas in John Knowles's A Separate Peace, Green draws Alaska so lovingly, in self-loathing darkness as well as energetic light, that readers mourn her loss along with her friends." --SLJ, starred review

"...Miles is a witty narrator who manages to be credible as the overlooked kid, but he's also an articulate spokesperson for the legions of teen searching for life meaning (his taste for famous last words is a believable and entertaining quirk), and the Colonel's smarts, clannish loyalties, and relentlessly methodological approach to problems make him a true original....There's a certain recursive fitness here, since this is exactly the kind of book that makes kids like Miles certain that boarding school will bring them their destiny, but perceptive readers may also realize that their own lives await the discovery of meaning even as they vicariously experience Miles' quest." --Bulletin of the Center for Children's Books, starred review

"Readers will only hope that this is not the last word from this promising new author." --Publishers Weekly

"John Green has written a powerful novel—one that plunges headlong into the labyrinth of life, love, and the mysteries of being human. This is a book that will touch your life, so don't read it sitting down. Stand up, and take a step into the Great Perhaps."
—K.L. Going, author of Fat Kid Rules the World, a Michael L. Printz Award Honor Book